Hello Neighbors! All of us here at the Stapleton Scoop hope everyone is doing well, staying healthy, enjoying extra time together as a family and keeping positive through this crazy time. Just like most of you, we are home with our families right now doing our part to flatten the curve, social distance ourselves and get our community back to normal as quickly as possible.
Personally, I have been doing my best to homeschool my children, continue to work on my real estate business, cook nourishing meals, read books to my kids, play games with them, watch movies and clean, clean, clean!
One thing I have noticed this past week or two has been how everyone is coming together, whether it's your family and friends, your children's school community or your work family. I have multiple text chains going right from a daily check-in, a list of our favorites 80's movies (Goonies and Princess Bride anyone), to discussing ways to do virtual happy hours as well as online learning from teachers! It has brought tears to my eyes more than once this week. There are silver linings everywhere right now and we will all get through this hard time together.
In light of these recent events we are focusing on the positives as much as we can at the Scoop. Our goal is to be a resource for the community that shares positive news and useful local updates.  I've included some of our recent blog posts and Facebook Live videos to offer ideas and ways to help us get through. Please feel free to email me or post a comment if you have more ideas to share!
Tips for Making the Next Three Weeks at Home with Kids Enjoyable – by Amy Atkinson
Coronavirus and Real Estate – Strategies and Thoughts on Buying & Selling Safely – by Mariel Ross
Now, back to real estate… Some may have noticed we took a break from our weekly real estate update last week because it just didn't feel like it was the right time to talk about buying and selling homes. This week we are back to reporting on our local market, hopefully helping those that are currently in the market and also providing a useful distraction for those of you that just love looking at homes!  Even though many people are rightfully hunkered down, there was still activity in the market this week.  We're watching the market closely to spot trends that may be useful for our buyer and seller clients.  As you'll see in the update below, 18 new homes were listed and 8 went under contract this week.
This week 18 new homes hit the market… for reference only 2 went live the week prior. The reality is we may feel uncertain about how this virus will impact the real estate market but many people still need to sell homes whether for a job move or to close on a home they have been building. Likewise, people are still looking to buy new homes, especially in the Stapleton community. Plus, interest rates are really low right now! Two great homes I want to highlight this week are…
5236 Akron St– listed courtesy of Joe Phillips of Focus Real Estate. This 3 bedroom, 3 bathroom home has a great location in Northfield, sits on a private pocket park and has a HUGE backyard plus gorgeous interior finishes. Priced at $590,000 this home is a must see and will not last long! (You just can't find a yard like this in the $500k's!)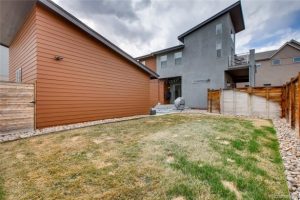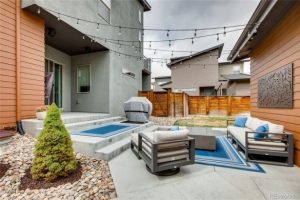 5236 Akron Street backyard space
5065 Valentia  – A stunning rowhome listed courtesy of Ashley Faller of Focus Real Estate, priced at $700,000. This spacious home has 3 large bedrooms and 4 bathrooms. Highlights include hickory floors throughout, upgraded kitchen appliances and a heated master bathroom floor.
Stapleton Under Contract / Pending Listings Over the last 7 days, 8 homes went under contract in Stapleton – 8!!
Stapleton Sold Listings – 7 homes sold over the last week.
All Stapleton Active Resale Listings – we currently have 27 homes active for sale in Stapleton!
That's it for this week's update.  If you have any comments, questions or if I can help in any way please feel free to call or text at 303-564-3734 or shoot me an email at lisa@focus-realtors.com. Stay healthy everyone!
Disclaimer:
Our Friday real estate updates are meant to be a "roundup" type post where we discuss all listings in Stapleton, not just our own.  It's our way of making sure we follow the market closely and we share it with the Scoop readers because we know many of you like to track real estate in the area as well.  Many of the listings in these posts are not our company's listings and we wanted to mention that here to make sure it's clear. Thanks for reading the Scoop!