Well, I'm a bit torn on how to begin this week's update. I'm lucky enough to be writing the last real estate update before Halloween, which is always such an exciting time in Stapleton! But, we've just had our second snow in October and that has me feeling like ski season. So, I guess I'm left with no choice but to share info on both.
There is still time to visit all of your favorite Halloween haunts. Check out Ashley's post on Halloween activities in and around the area. Once Halloween is over, it seems like ski season is bound to be great this year with the snow starting so early! Here's the Scoop on passes at nearby ski resorts and packages.
If you're in the market to sell or buy a house, don't worry you are in the right place! In this week's real estate update, there are homes for sale in a wide range of price points, info on open houses, coming soon's, and I'm also going to share a bit of info on market stats, per our readers request. Thanks for your responses!
New Listings
This week  7 new listings entered the market. This Boulder Creek Entice model home is your last chance to own a Boulder Creek Home in Beeler Park. Boulder Creek homes offer main floor living with a finished lower level which in this case offers a large recreation room with included pool table! Located at 5876 Alton Street and listed for $699,900. Let me know if you'd like to schedule a showing today!
Catch this one before it's gone! This Stapleton townhome with 3 bedrooms, 2.5 baths and attached 2-car garage located at 11245 E. 25th Ave. is listed for $417,000. Situated on a quiet courtyard with sizable front porch, this home is close to the Anschutz Medical Campus, the Eastbridge Town Center and the Stanley Marketplace. Access to public transportation including multiple bus lines & Light Rail Stations. As part of the Stapleton Master-Planned Community there are numerous parks, trails, open space & pools nearby. To top it off, this high-efficiency home has tankless hot-water and significant energy-savings.
Looking for a brand new home that will be ready in time for the holidays? Check out these KB spec homes available in Stapleton's final neighborhood, North End.
Focus Real Estate Open Houses This Weekend
5864 Alton – Open Saturday 10/26 from 1-3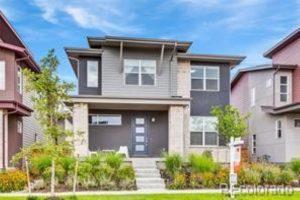 7384 E. 28th Ave – Open Saturday 10/26 from 1-4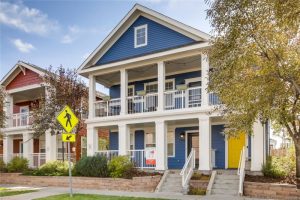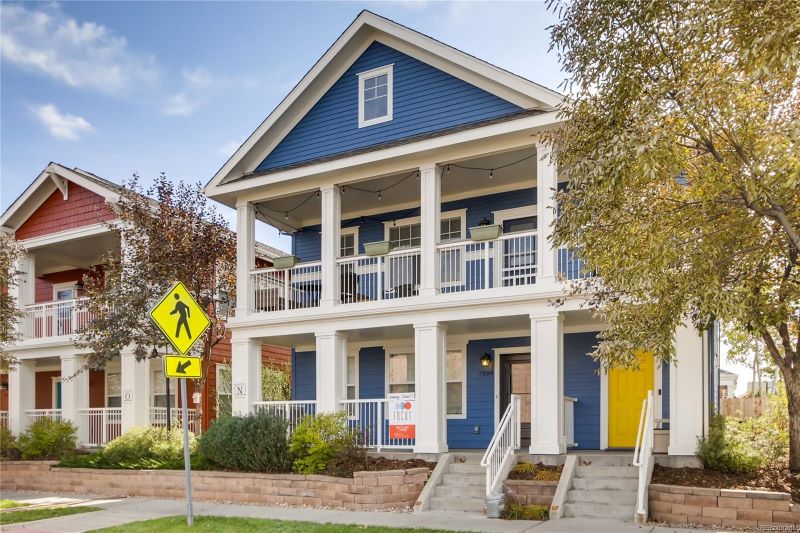 Under Contract Stapleton Listings This Week
There were 13 homes that went under contract in Stapleton this last week.  According to REcolorado, the current average for days on the market in Denver for detached single family homes is 32. That's up 18.52% from 2018. So in this current market, as a seller, expect one month listing time on average before going under contract.
Sold Stapleton Listings This Week
There were 13 homes that sold in Stapleton this last week.  The average sale price in Denver is currently $532,139, according to REcolorado. That's up 5.77% from last year. Although it may take your property longer to go under contract this year, the sales price has still increased from last year.
There are currently 98 homes for sale in Stapleton.
Coming Soon
Parkwood Homes Painted Ladies Model Home! Parkwood will soon be listing their gorgeous West facing, corner lot model home in Beeler Park for one lucky buyer!  Although it will be used as a model for 12-24 months, you'll be able to buy at today's prices and collect rent from an awesome tenant – the builder!  Listing super soon around $800k!
4 bed, 4 bath Thrive Home Builders home in Willow Park East.  This "ZEN" home will save you a ton on energy bills and it's beautiful!  It features 4 bedrooms, a finished basement, high end finishes throughout (including that white kitchen you've been wanting!)  Ballpark price low/mid $700s and likely to list around the end of 2019.
5 bed, 4 bath David Weekley with main floor bedroom suite in Willow Park East.  Light and bright with finished basement and low maintenance outdoor dining and turfed side yard.  Listing this Winter in the mid $600s.
4 bed, 4 bath modern Wonderland home just across from Swigert International!  Great floorplan with a main floor office, corner lot and even a fountain in the courtyard.  Listing this Winter in the mid $600s.
3 bed, 2 bath condo in the Westerly Creek neighborhood of Stapleton.  Mid $300k's.  Likely listing in October.
Thinking about selling your home or need more information about how to purchase a new build? As always, if you're looking for a Stapleton-based agent (and neighbor) to help you find your perfect home – the team at Focus Real Estate is here to help!  I would love to chat and my contact information can be found below.
Disclaimer:
Our Friday real estate updates are meant to be a "roundup" type post where we discuss all listings in Stapleton, not just our own.  It's our way of making sure we follow the market closely and we share it with the Scoop readers because we know many of you like to track real estate in the area as well.  Many of the listings in these posts are not our company's listings and we wanted to mention that here to make sure it's clear. Thanks for reading the Scoop!