Welcome to the August spring real estate selling season!  At least that's what it feels like lately to us.  The real estate market is white hot in many segments (check out this article) and we're seeing the same trends in the neighborhood.
In this weeks' update on the Central Park (going to take a while to get used to this new name!) real estate market we have tons of info to share with you, including info on all the new listings, insights on available units in an income-qualified condo project right next to the light rail station, specific tips on how to win a bidding war, details on our Open Houses this Saturday and Sunday and more!  Lots to chat about, so let's jump right in.
This week there are 16 new listings in Central Park.  The market needs all the inventory it can get, so hopefully a few more will come online today.
Of the new listings, we wanted to point out 3 that we at Focus Real Estate just listed this week:
This Thrive Home Builders "ZEN" home, listed for $739,900, features beautiful finishes like white shaker cabinets, 4 bedrooms, a finished basement, a South-facing layout on a quiet block and tons of energy efficiency upgrades!  With the efficiency upgrades and prepaid solar lease your utility bills are almost completely wiped out.  Want to learn more?  You can check out this 360 tour or visit Ashley Faller from our team at the Open House this Sunday 8/9 from 12 – 3pm.
This listing on 33rd Ave is actually my direct neighbor's house.  It comes on the market later today so as of right now you can just check out the link above to see our FB Live tour we did yesterday.  The home, which was built by Thrive Home Builders, features 4 beds, a finished basement and a prepaid solar lease.  A few things that make it really special are the location on a mews (which means it faces onto a little park!) and the short walk to the light rail station (and Sprouts which opens in about a week!)  This home will be listed for $789,900 and you'll find it online later today.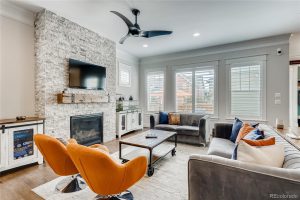 Want a stunning Parkwood home but don't want to wait through the construction process?  Check out this new, decked out listing on Boston St!   Stunning finishes throughout and all the features you'll love when spending more time at home.  Home gym?  Check.  Steam room? Check.  Hot tub? Check. Low maintenance large yard? Check.  Upgraded appliances in large kitchen for cooking? Check.  We could keep going but you should just check out this 360 tour and stop by our Open House Saturday 8/8 from 1-3pm.
Under Contract Central Park Listings:
There were 32 homes that have gone under contract in the last week!  That's bananas, considering we only have 46 total active listings in the neighborhood.   That indicates we have just a few weeks worth of available inventory for buyers, which strongly shows it's a seller's market.  This low inventory is what's been driving the strong price appreciation.
Because of the low inventory we've noticed a resurgence of bidding wars on certain properties.  These bidding wars can be really frustrating for buyers, especially when they lose out on multiple properties.  To help address that issue Mariel Ross from our team compiled some helpful advice and wrote "How to Win a Bidding War Right Now".   As you'll see, there are a lot of things buyers can do to make their offer stand out without just paying the highest price.
There were 14 sold listings last week and you can check those out in the link above.
All Active Central Park Listings:
As mentioned above, there are only 46 total active listings in the neighborhood in all price ranges.
Not seeing what you want?  We have a few other suggestions:
First, for buyers that fit the income-qualified housing guidelines there is an awesome condo project now under construction right across from the light rail station.  The project has 1 and 2 bedroom condos in the mid $100k's (that's the all in price, not just the starting price).  The project has broken ground and should be complete around summer 2021. You can check out this condo listing and if you like what you see you can learn more here and if you're interested let's chat.  We'd love to help!
Second, if you're interested in building new in North End, Central Park's last neighborhood, you may want to sign up for the builder cheat sheet we have available at HomesInNorthEnd.com.  It gives you details on all the builders' various home series and by signing up you'll get updates from us as the builders continue to release homes for sale.  (So far only Parkwood and Infinity have released lots and they've sold really well!)
Not ready to buy yet but want to live in Central Park?  The link above has some available rentals for you to check out.
That's it for the Scoop this week!  For more info on buying or selling a home with Focus Real Estate, check our video series here made to help guide you through buying and selling.  As the videos explain, we're now selling Central Park homes for 1.5% listing agent fees!  So check it out and save if you're considering a move this year.
If you have any questions or to set a showing on a listing you can reach me at joe@focus-realtors.com or at (720) 299-1730. Have a great weekend.
Disclaimer:
Our Friday real estate updates are meant to be a "roundup" type post where we discuss all listings in Central Park, not just our own.  It's our way of making sure we follow the market closely and we share it with the Scoop readers because we know many of you like to track real estate in the area as well.  Many of the listings in these posts are not our company's listings and we wanted to mention that here to make sure it's clear. Thanks for reading the Scoop!