Its Friday of Labor Day weekend… yes Labor Day weekend already!! Another summer has come and gone. All of us here at the Central Park Scoop and Focus Real Estate hope you made this summer your best one yet!
As you know, each Friday we do our weekly Central Park real estate market update. We hope you find it as helpful as we do.
We also pride ourselves on our relationships with local builders in Central Park and other areas around the Denver metro. Over the last few weeks our team has met with some of these builders and published updates on what they have left in their Central Park inventory. There are still homes being built in 80238! Check out the posts below to see what is left and also be sure to subscribe to our builder update page!
Another topic unrelated to real estate but timely with back to school upon us is, Artificial Intelligence or A.I.. Our very own MCA is hosting a class next week entitled "How Students Can Survive & Thrive in an AI Era".
Details: Curious about new Artificial Intelligence (AI) tools such as ChatGPT and how to help your kids navigate the abundant opportunities as well as pitfalls of the new technology in High School and College?

Dr. Jeff Ederer of College Route Map and Bill Houston from Mindfish Test Prep and Academics will be co-presenting a FREE program next Wednesday, September 6th, from 7pm-8pm at The Cube in Northfield. "How Students Can Survive & Thrive in an AI Era" will be an informative program aimed to help parents understand the new AI tools and how to help their children successfully use it.

What: "How Students Can Survive & Thrive in an AI Era"
Where: The Cube, 8371 Northfield Blvd, Denver, CO 80238
When: Wednesday, September 6th from 7pm-8pm
Price: FREE, no tickets necessary!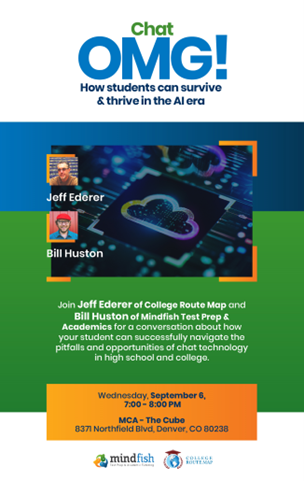 "Now, on to this week's real estate numbers…
Whether you live in, or would like to purchase in Central Park or anywhere else in the Denver metro, our 5 brokers here at Focus Real Estate would love to help! Shoot me an email lisa@focus-brokers.com to see any of these available homes or if you have any real estate questions at all.
Central Park Weekend Open Houses: Lots of open houses over this holiday weekend. If you are around be sure to check them out or reach out to our team to schedule a showing!
South of I-70
8151 E 29th Ave – open all day Friday, September 1st
3529 Xanthia Court – Sunday 12pm to 2pm
3365 Akron Street – Saturday 11am to 1pm
2408 N. Syracuse Street – Saturday 10am to 2pm
North of I-70
8990 E 52 Place – Saturday 10:30 to 12:30
9358 E 60Place – Saturday 12pm to 3pm
5900 Beeler Court – Friday 12pm to 2pm
10362 E 58th Ave – Saturday 12pm to 2pm
5065 Uinta Street – Saturday 12pm to 2pm
5798 Beeler Court – Saturday 2pm to 5pm
9235 E Prairie Meadow Drive – Saturday 10am to 12pm
Since last Friday 7 new homes came on the market priced from $264,503 for an income qualified 2 bedroom townhome (already pending) to $1,299,000 for a stunning 6 bedroom Parkwood built home located in the coveted Nantucket Close area of Central Park! .
This almost new home is one of Parkwood's Beacon Hill collection townhomes located in the North End area of Central Park. This lovely 4 bedroom, 4 bathroom home is priced at $895,000 and exudes classic elegance. Plus, this unit is on the end so it has its own yard space! A must see at a great price!
There are currently 63 total homes for sale in Central Park but 18 of those are new build spec homes marketed by neighborhood builders. This means Central Park currently has 45 resale homes on the market priced from $325,000 for a 1 bedroom condo up to $1,995,000 for a 6 bedroom single family home.
One of my favorite homes on the market right now is 5900 Beeler Court listed for $975,000 by my colleague Mariel Ross. This home is located in the Beeler Park area of Central Park and faces west so you have views of the beautiful Front Range! With 4 bedrooms, 4 bathrooms and almost 3,000 finished square feet this is the perfect place to call home. Let me know if you'd like a private showing!
Over the last 7 days, 7 homes went under contract. Out of the 7 homes, 4 of them went under contract within 2 weeks on market!
This week 9 homes closed, check them out and say a big "welcome" to our new neighbors!
ICYMI
DID YOU KNOW: Focus Real Estate also has a property management company? If you own a rental or are considering purchasing an investment property give Joe Phillips a call (or anyone on our team) to discuss what Focus can offer to you. We pride ourselves on marketing our rentals as well as we do for our sale homes. You can learn more about what's included in our services as well as our pricing on this page on our property management site.
That's it this week! If you want to talk Real Estate, get a home valuation, discuss market conditions or really anything you think should be on the Scoop, let's chat! Shoot me an email at lisa@focus-brokers.com or feel free to call/text me at 303-564-3734.
Lisa
**Focus Real Estate – Neighborhood experts, flexible commissions**
Disclaimer:
Our Friday real estate updates are meant to be a "roundup" type post where we discuss all listings in Central Park, not just our own. It's our way of making sure we follow the market closely and we share it with the Scoop readers because we know many of you like to track real estate in the area as well. Many of the listings in these posts are not our company's listings and we wanted to mention that here to make sure it's clear. Thanks for reading the Scoop!