When I wrote the weekly real estate update in February we had only 14 homes on the market total! This week as we enter the weekend we have 22 homes for sale, this is good news in my book, albeit baby steps but good! As I monitor the real estate market each day in the Denver Metro area and specifically Central Park it blows my mind daily how few homes we have for sale as compared to last year and what it is taking buyers to "win" these homes. Yes, we're in a historic Real Estate market at the moment – as historic as the snow that blanketed our city last weekend and while it can be a wonderful opportunity for sellers, it can be a challenge for buyers. Buyers are pulling out any stops they can think of including offering money to a seller's charity of choice or even begging.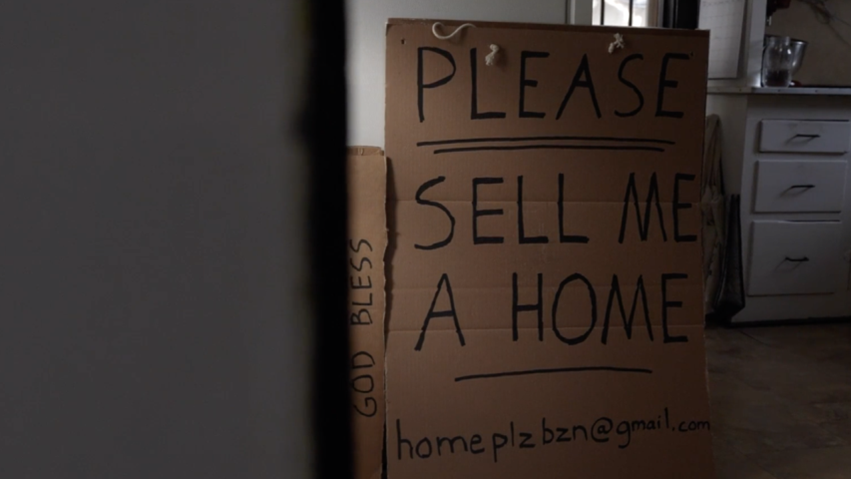 Just remember, who you work with matters and our team at Focus Real Estate has been the neighborhood expert for over a decade. We know what it takes to help your offer stand out and we have great relationships with other brokers, the builders and the community!
Check out this video our fearless leader Joe Phillips made on tips for submitting a winning offer!
Now onto the numbers…
This week 15 new homes have hit the market. They range in price from $460,000 for an adorable townhome up to $1,499,000 for a stunning Victorian home located on coveted Spruce Way! Our neighborhood truly has something for everyone!
Here are a few of my favorite homes this week…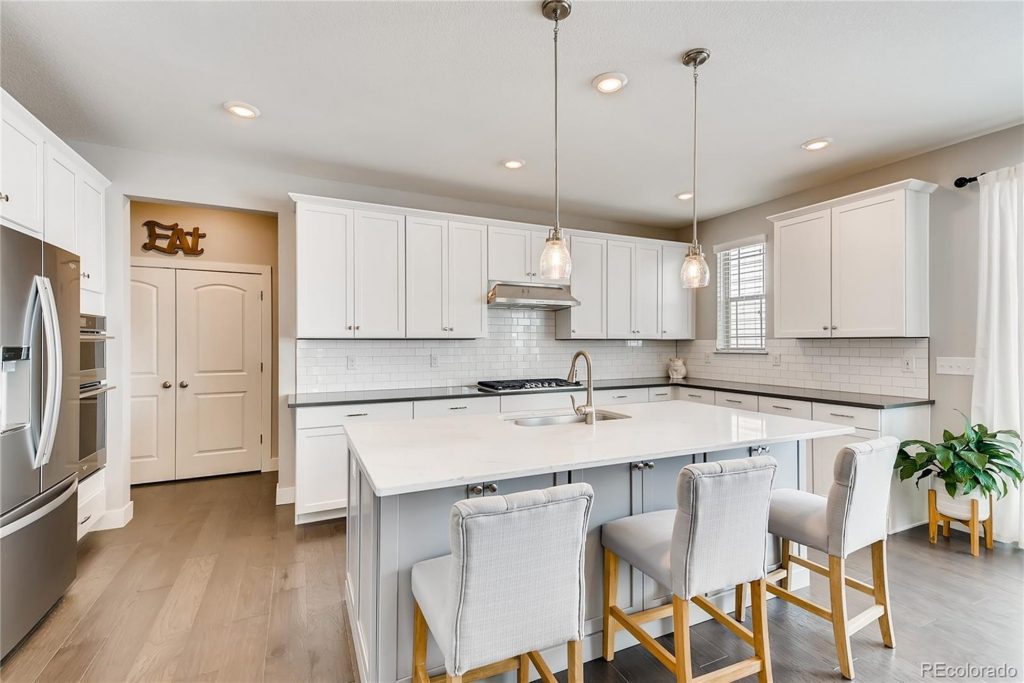 The kitchen at 6026 Fulton Street has it all – listed for $735,000 by Mariel Ross of Focus Real Estate
6026 Fulton Street is one of those perfect homes that are bound to go quickly. When it's priced right and includes everything you need it sure won't last long and it didn't this home is under contract as of last night 3/18 but I am still featuring it because it's fabulous! A perfect courtyard location and tons of upgrades made this 3 bedroom home shine… main floor office, gorgeous chef's kitchen, quartz counters, an epoxy finished garage and finished basement made this one just too good to pass up! Listed for $735,000 by Mariel Ross of Focus Real Estate.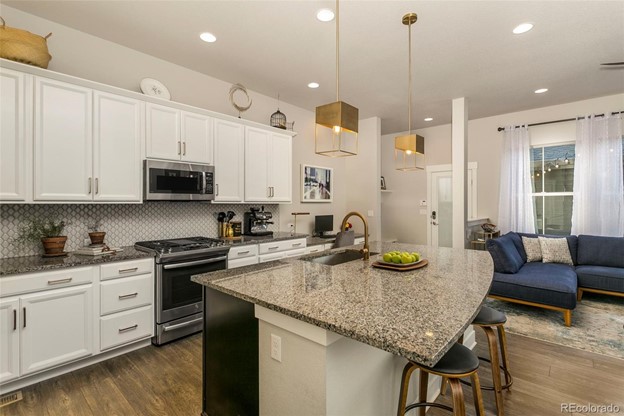 5715 Boston Street listed for $595,000 by Ashley Faller of Focus Real Estate – Love the backsplash and light fixtures!
This fabulous David Weekley paired home truly lives like a single family home. You'll love the versatile loft space which is an ideal office area or could be finished later to create an additional bedroom upstairs. Upgraded throughout – including the beautiful lightning in this home! I am so impressed with the stunning Mountain View from the main bedroom. This home is listed for $595,000 by Ashley Faller with Focus Real Estate.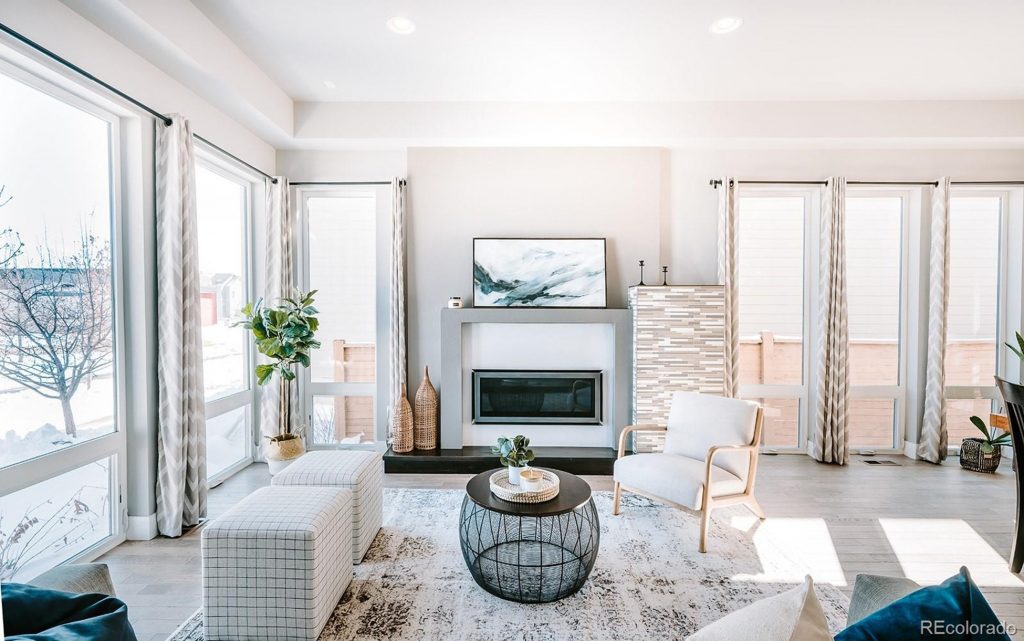 Light filled living area at 8810 Beekman place listed for $1,000,000 by Jason Cummings, Compass.
8810 Beekman Place is one of those great homes with a perfect location fronting the Maverick pool and park. This stunning 3 bedroom home has all the upgrades you'd expect from an Infinity built home, upgraded appliances, quartz counters, plus tons of finished square footage, almost 3,000 and potential for more space and more customization with a large 1,200 sq ft unfinished basement ready for you to create an oasis in the city! This home is listed for $1,000,000 by Jason Cummings, Compass Denver
This week 13 homes went under contract/pending. These buyers figured out what it takes to get their offers accepted, congrats!
8 homes have closed since last Friday, welcome home to our new neighbors!
There are currently 22 active resale homes on the market in Central Park.
**Focus sells homes for a 1.5% listing commission. Neighborhood experts, reduced commissions**
That's it this week! If you want to talk Real Estate or really anything you think should be on the scoop, let's chat! Shoot me an email at lisa@focus-realtors.com or feel free to call/text me at 303-564-3734. Have a great weekend everyone!
Featured Image Credit: The Denver Post
Disclaimer:
Our Friday real estate updates are meant to be a "roundup" type post where we discuss all listings in Central Park, not just our own. It's our way of making sure we follow the market closely and we share it with the Scoop readers because we know many of you like to track real estate in the area as well. Many of the listings in these posts are not our company's listings and we wanted to mention that here to make sure it's clear. Thanks for reading the Scoop!