Happy Friday everyone… hope you are all having a great week despite the craziness of the election. I thought some numbers on our HOT local real estate market would be a great distraction for us all. I wanted to start today by discussing October market stats because they were fantastic! The Denver metro area hit record highs once again for average sales price with single family homes just over $625,000 and attached homes at $393,700. We also had a record low for months of inventory at only 0.8… this means if no new homes came on the market, the ones still on would all be gone in about 24 days. There are only 4,800 active listings in Denver right now and only 33 in Central Park. This is very good news for sellers right now but this can make for a tricky home buying process for buyers. The good news for buyers though is that interest rates are extremely low.
This is a great time to sell your home and we'd love to help!  So let us offer you a free home valuation and we can discuss your goals! At Focus Real Estate we list homes for a 1.5% listing fee.  You can learn more about those discounted commissions and all we have to offer at Focus in these Buyer and Seller FAQ Videos.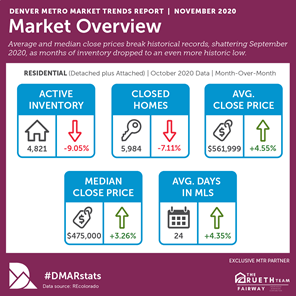 Click here to review the whole November market trends report courtesy of DMAR.
Now onto the Central Park Real Estate numbers
This week we only say 10 new listings… which is actually up from last week but still very low all things considered.
2519 Wabash Street – listed by Melanie Madden of 8z for $639,000.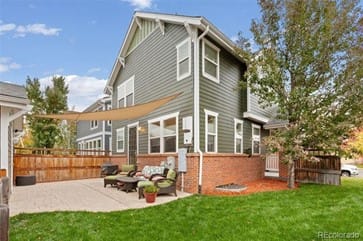 Photo courtesy of ReColorado – look at this large outdoor space/Corner lot!
OPEN HOUSE ALERT: SATURDAY 11AM TO 1PM
This great home is located near Bladium and lots of greenspace within walking distance! I just can't get over the large corner lot with new backyard landscaping!
10 homes went under contract this week. Down 1 home since last week… things are starting to slow down a bit here in Central Park but more from the lack of inventory than anything else… although I believe some sellers waited for the election to pass. I expect we'll see a small uptick in the next few weeks before we get into the holidays! I wanted to point out that of these 10 homes, 5 went under contract in 5 days or less… people are scooping these homes up often for over asking price and multiple offers.
20 homes closed over the past 7 days! Welcome home to our new neighbors.
There are only 33 active resale homes in our neighborhood right now… this is very low! The homes span quite a price range though (as they usually do) currently ranging from $134,500 to up to $975,000.
6084 Alton Street, listed by Mariel Ross of Focus Real Estate for $539,990.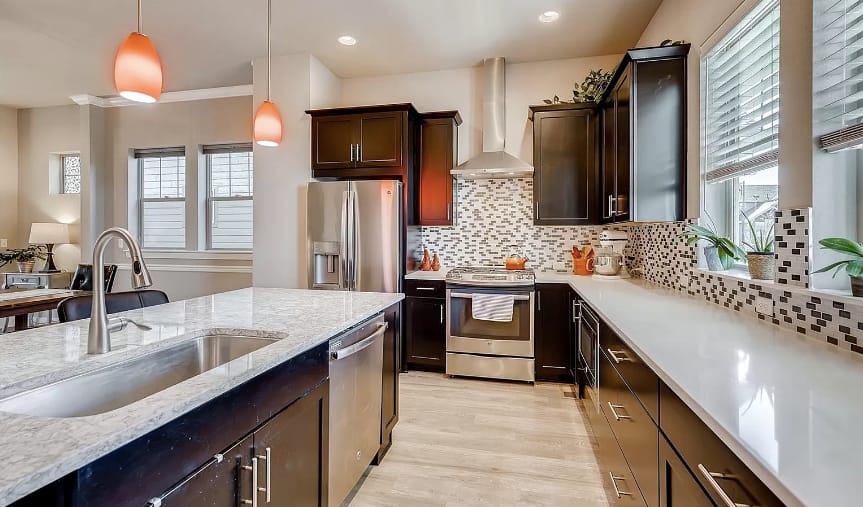 Photo courtesy ReColorado – Massive kitchen at 6084 Alton Street!
This Beeler Park paired home was built by David Weekley with beautiful finishes! It really has it all – 2 spacious bedrooms, 3 bathrooms,  extra upstairs loft space, plus an unfinished basement ready to make your own and smart outdoor space wrapped into a GREAT price!
OPEN HOUSE ALERT: SATURDAY 11AM TO 2PM
If you are not quite ready to purchase a home or if you are building and need a home in the meantime, there are plenty of great rental choices in our neighborhood to pick from. Check them out in the link above.
That's it for the Scoop this week!  For more info on buying or selling a home with Focus Real Estate, check our video series here made to help guide you through buying and selling.  
If you want to talk Real Estate or really anything you think should be on the scoop, let's chat! Shoot me an email at lisa@focus-realtors.com or feel free to call/text me at 303-564-3734. Have a great weekend everyone!
Disclaimer:
Our Friday real estate updates are meant to be a "roundup" type post where we discuss all listings in Central Park, not just our own.  It's our way of making sure we follow the market closely and we share it with the Scoop readers because we know many of you like to track real estate in the area as well.  Many of the listings in these posts are not our company's listings and we wanted to mention that here to make sure it's clear. Thanks for reading the Scoop!