Happy New Year! WOW, its 2023 already. 2022 seemed to fly by didn't it? With it brought lots of adjustments to the real estate market across the country and Central Park was no different. Interest rates have risen at an unprecedented rate, albeit the goal is to curtail inflation, but it seemed faster than any of us would have liked. The fed will raise the rate 2 more times early this year by 0.25% each hike, but then it may fall back down under 6 if inflation comes down. We are hoping it will land in the 5's later this year. We need to be reminded though that interest rates are sitting about 6.5% for a conventional 30 year loan, which is where they were back in 2017/2018. The low rates we saw the last few years were very short lived. To those that were able to capitalize on that, congratulations, but life goes on and Real Estate endures.
There will always be homes to sell, jobs that take us to other areas or states, new homes to buy and builders building new homes. The good news is sellers have still seen appreciation in their home values year over year. It stands at 1.5% overall (attached and detached homes, DMAR), and home owners have seen about 40% appreciation in their home values since 2020 despite the downturn. Buyers now can make educated offers on homes they like after thoroughly considering all options and discussing seriously with lenders. The buyers are serious and they are getting homes they love for an appropriate price. Did you know, since last week, almost 50% of active homes on the market lowered their price? The market always dictates the price of a home and we can think of 2023 as bringing the real estate market "back to normal".
We have put together our annual Real Estate market update and trends for 2023. You can read it HERE!
Now, on to this week's real estate numbers… Whether you live in, or would like to purchase in, Central Park or anywhere else in the Denver metro, our 8 brokers here at Focus (www.focus-realtors.com) would love to help!
Infinity, Parkwood and Wonderland oh my… There are 5 new listings this week in Central Park priced from $460,000 up $1.4 million.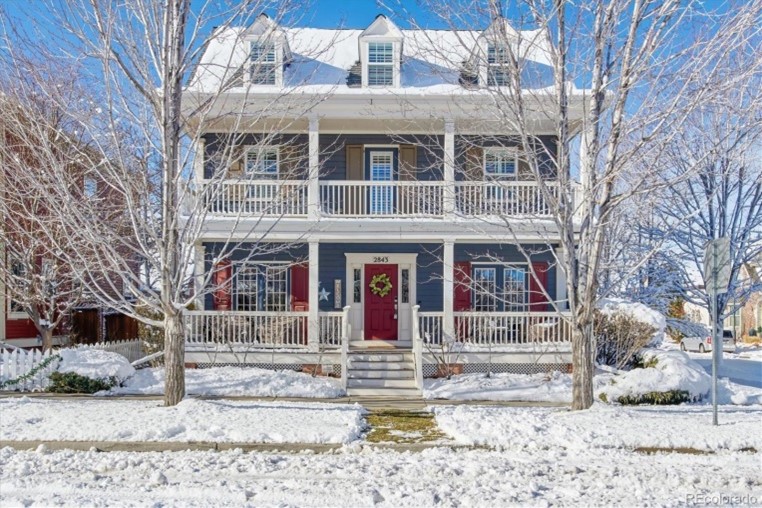 2843 Havana Street is a beautiful 4 bed/4 bath home built by Parkwood in 2006. This home is listed by Kimberley Austin Properties of Keller William Integrity and priced at $1.2 million. It has a great location south of I-70. The home is set back a bit from the road on a large corner lot and it's just one block to the F-15 pool, park and playground. Let me know if you'd like to see it.
5983 N. Geneva Street is a beautiful ranch home nestled on a private "all white homes" courtyard in the North End area of Central Park. This 4 bedroom, 3 bathrooms home was built in 2021 by Wonderland Home Builders and is priced at $850,000. It is sure to impress with its light and open main living area, vaulted ceilings, beautifully finished basement and designer lighting. Some highlights include a main floor primary bedroom, located on a corner lot and open floorplan.
There are currently 42 homes for sale in Central Park, but if you take out all builder homes only 30 of them are re-sale homes.
I was quite encouraged in the market because 15 homes went under contract this week! I think that's a strong number the first week of the New Year.
This week 2 homes closed, welcome home to our new neighbors!

Last but not least, be sure to check out our new e-book about our neighbor next door, the Anschutz Medical Campus (www.livingnearanschutz.com). Thinking about moving to Denver for a job on CU, Children's, the VA, or somewhere else on campus? Are you curious to learn more about living near Anschutz, local restaurants, what the commute looks like, where to live? Our team would love to help.
That's it this week! If you want to talk Real Estate, get a home valuation, discuss market conditions or really anything you think should be on the scoop, let's chat! Shoot me an email at lisa@focus-realtors.com or feel free to call/text me at 303-564-3734. Lisa
**Focus Real Estate – Neighborhood experts, flexible commissions**
Disclaimer:
Our Friday real estate updates are meant to be a "roundup" type post where we discuss all listings in Central Park, not just our own. It's our way of making sure we follow the market closely and we share it with the Scoop readers because we know many of you like to track real estate in the area as well. Many of the listings in these posts are not our company's listings and we wanted to mention that here to make sure it's clear. Thanks for reading the Scoop!