I am always looking for ways to help my community and show my children how important it is to give back. This is an important lesson all year round for their little minds but this time of year it seems to compel me even more so.  This week, I had the great privilege of touring Metro Caring, an impressive organization right here in our own city thanks to their Development Manager, Jim Van Someren.  I wanted to offer you all more information and highlight ways you can help or utilize these services should you or anyone you know benefit from them.
Did you know:
1 in 6 Colorado children will not know where they will get their next meal
1 in 4 working families in Colorado will not have enough food
1 in 10 Colorado Seniors will struggle with hunger
Metro Caring, a local non-profit organization with deep community ties began its mission to end hunger at its root 47 years ago. This means that not only can community members find nutritious food at Metro Caring's Fresh Food Market but they can actually learn about food, nutrition and wellness at their innovative facility located at 1100 E 18th Ave in Denver. Metro Caring offers fresh, healthy food free to anyone as well as cooking classes, job training, ID assistance, utilities assistance and SNAP enrollment (food stamps).
The Fresh Food market is an appointment based grocery program serving 100 families each day where anyone regardless of income or life situation can select a weeks' worth of food. They only offer nutritious items such as fresh produce, whole grains, dairy, meats and some select items such as diapers, soap and toilet paper. Most of the items come from big retailers like Whole Foods and Sprouts, while some come from food distributers such as Fresh Point, but anyone can offer food donation at any time.
Ways we can all help Metro Caring:
Learn: schedule a tour, invite them to speak to your company, or sign up for their newsletter at www.metrocaring.org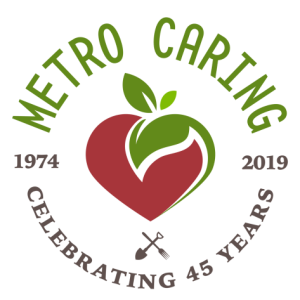 Volunteer: You may be sorting foods in the warehouse, stocking the shelves in the market or helping people by answering questions – there are many ways to give your time. (Morning and afternoon 3 hour shifts M-F available – must be 14 years and up)
Feed others: host a food drive, or donate food yourself
Monetary investments: you can offer a financial contribution to help improve the wellness of the entire community
Spread the word: Tell people about Metro Caring
Consider a one-time donation on Colorado Gives Day – December 10th, 2019.