It's October and it's time to talk skiing! October signals the start to ski season with cooler nights producing natural snow at the higher altitudes and man-made snow operations underway. The catch is it's been unseasonably warm this fall and we need the temperature to drop for snow making to continue. Arapahoe Basin, Loveland or Keystone historically open first each year and have a healthy competition with each other to vie for the bragging rights. Who will it be this year? Last year, Keystone opened first on November 6th but in 2019 it was Arapahoe Basin on October 12th!
At this point if you haven't started thinking about your turns this winter you're behind the game! Let's get you the information you need to be sure you have your passes and some ideas of what is going on in our high country this winter.
The good news is many of our beloved resorts are reporting they anticipate a normal operating season!
CLICK HERE for a database to all the Colorado ski resorts. This includes opening dates and links to the resort websites.
IMPORTANT PASS UPDATES:
EPIC PASS Information: The Epic pass allows pass holders access to Vail, Beaver Creek, Breckenridge and Keystone plus Telluride and Crested Butte are 'partner' resorts here in our state along with lots of other Mountains out of state.

Get your passes now if you haven't already because prices go up 20% on 10/14! Click HERE for your pass!
A few EPIC updates: Epic resorts will not have a ski day reservation system this year like they did last year – thank goodness. It was darn hard to get a ski day on a weekend wasn't it? They will require masks while inside any buildings and guests 12 and older who choose to dine indoors will need to show a proof of vaccination.
Epic Resorts COVID information
IKON PASS Information: The Ikon pass allows pass holders local access to Steamboat, Winter Park, Copper, Arapahoe Basin, Aspen and Eldora plus other out of state resorts.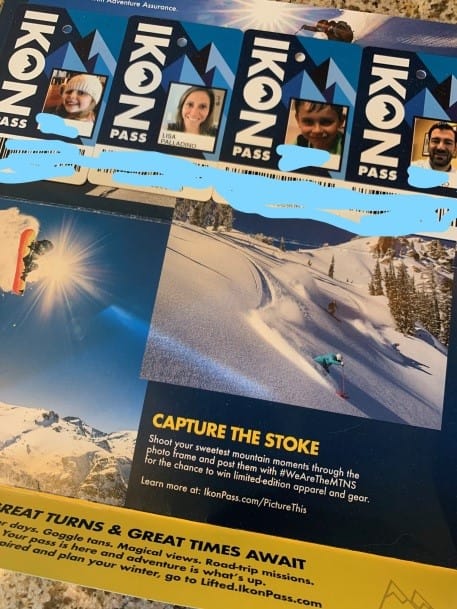 Be sure to grab your IKON Passes NOW because prices go up on October 15th and all renewal discounts go away! Click HERE to purchase. 
IKON updates: The Ikon pass is sticking with their convenient  'adventure assurance' program implemented last year which means should you choose not to use your IKON pass this season, you can elect for it to be transferred to next ski season by December 9th. You will also be offered a proportional credit back should any IKON pass destination be closed for any period of time due to COVID. This credit will be applied to next year's ski pass. Complete peace of mind if you ask me, well done, Alterra.
NOTE: please check all destination websites prior to planning your ski trip to ensure you understand that individual resorts protocols.
SKI RESORT UPDATES:
Aspen and Arapahoe Basin turn 75 this year so expect fun festivities throughout the season to celebrate!
Steamboat has relocated its gondola up the hill to make way for a base area redesign.
Beaver Creek will proudly open 250 new acres to accommodate beginner and intermediate skier and riders in their McCoy Park Zone.  They also installed a new high speed quad chairlift to access this terrain.
Keystone is replacing its Peru Express lift with a 6 person lift to help congestion at the base area.
Copper Mountain is launching its 'Western Territory' expanding terrain on the west side of the resort to accommodate beginners, families and kids.
Breckenridge is celebrating its 60th Anniversary season! It also installed a new detachable chairlift on Peak 7 which will improve skier access to the beginner and intermediate terrain found on Peaks 6 and 7.
Opensnow.com is a great website to check the snow report for your favorite resort!
The Winter Park Express: The Winter Park Express ski train through Amtrak will not run this season as they look for safe ways to operate during the 2022 winter – stay tuned!
Colorado has over 30 ski resorts! CLICK HERE to check them out! This includes opening dates & links to the resort websites.
Happy Skiing Everyone! Lisa