Most people say Memorial Day weekend is the unofficial start to summer! I agree and my family is sure ready to get out and explore our beautiful state. What does summer hold for you… The pool, backyard BBQ's, hiking, biking and camping? I have collected a list of great camping spots close to the Denver area sure to offer you lots of fun this summer.
First Things First – RV or Tent?
Are you a tent person with bins of gear ready to go at a moment's notice in your garage or do you own a RV? Have you been considering renting an RV or trailer this summer? There are so many ways to enjoy our wonderful state parks, campgrounds and backcountry. Here are a few places to check out below.
Good ole REI or Bass Pro Shops are great go-to stores for many of your camping needs!
Places to Purchase an RV:
RV Rental Options:
Cruise America (rental and purchase)
Now you have your accommodations you need your camping spot. A great place to start is Colorado Parks and Wildlife website – click HERE to find and book your campsite. You can also reserve a camping spot on Reserve America . I prefer camping with water nearby and find my children appreciate this as well so I have included some great camping spots below close to Denver and have water nearby.
Top Camping Spots Within 3 Hours of Denver:
Cherry Creek State Park – Cherry Creek State Park is beautiful park located in Aurora Colorado and the campground is located on the large 880 acre Cherry Creek Reservoir. Cherry Creek has 131 campsites that accommodate tents and RVs with 50 amp full hookup pull-through sites. The park includes an off-leash dog park, swim beach, boat rentals, horseback riding stables and many trails.  The campground is popular and has many shade trees to keep you cool so book early!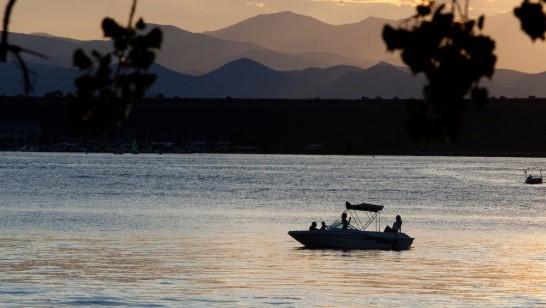 Chatfield State Park – Chatfield State Park is beautifully nestled along the foothills in Littleton Colorado and offers water sports, wildlife and endless activities! The campground has 197 campsites to choose from, all with electrical hookups and many with water and sewer hookups – very convenient if you have an RV.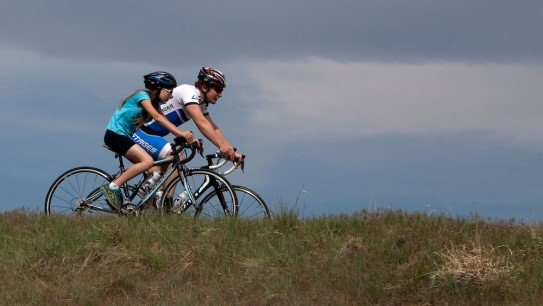 Eleven Mile Reservoir – Eleven Mile State Park and Reservoir is located about 2.5 hours from Denver in South Park and is known for its fishing and water sports. There are nine lakeside campgrounds with 348 sites to accommodate tents and RVs, some with a boat ramp for direct lake access. For boat-in campers and backpackers looking for more secluded camping, there are backcountry sites on a wooded peninsula at the southern end of the lake.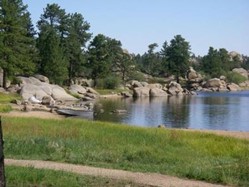 Dowdy Lake Campground – Dowdy Lake is a picturesque lake ideal for canoeing, fishing and hiking located near Red Feather Lakes Village just northwest of Fort Collins. The campground offers 60 sites total and 50 have electric hook-ups.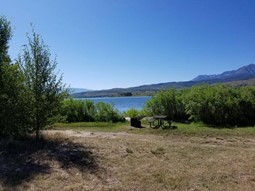 Cow Creek Campground – Cow Creek is located in Heeney Colorado off Highway 9 about 30 minutes North of Silverthorne located on the shores of Green Mountain Reservoir. It's located within the White River National Forest with gorgeous views of some of our states Fourteeners and close to the Gore Creek Range popular for off-roading vehicles. Cow Creek has 44 sites that are suitable for tents, trailers, and RVs to fit everyone's camping style. Be on the lookout for wildlife too – bighorn sheep and elk often stroll through the Green Mountain area.
Camping Safety guidelines:
Fire Safety – Colorado is a very dry state and there are often fire restrictions in place. Check the local rules and regulations prior to your trip. Be sure to bring along a camping stove in the event there is a full fire ban in effect. Never leave a burning fire unattended and make sure your fire is completely out overnight and when you leave. A smoking fire is not out! Always make sure it is truly out before you go to bed or leave your campsite. Also, be aware of any potential wildfires burning in the area prior to your trip.
Wild Animals – Always respect the wildlife in our state. Never touch or feed a wild animal. Remember to leave no trace while camping or hiking and pack out whatever items or trash you may have accumulated after your stay. Hopefully you will not encounter a bear or mountain lion but be respectful of any wildlife you see. Keep all food locked away overnight in sealed containers, inside your vehicle not in your tent. Consider bringing along bear spray for safety as well.
Weather – Colorado weather can be unpredictable. You should be prepared for a variety of weather conditions including extreme hot and cold temperatures, wind, rain and snow even in the summer. Pack layers and items to keep you comfortable in any situation.
Happy Camping!
Where are your favorite camping spots? – leave a comment below!