House hunting in Central Park? It's tough these days! The good news is there are more new builds to come, which may be a great alternative to bidding wars in the resale market.
In fact, Brookfield Residential, the newest builder to Central Park, has 300+ lots to build homes on in the neighborhood and they're just getting started with those sales!
Here's the scoop on what you need to know right now if you're interested in snagging one.
What is Brookfield building in Central Park?
Brookfield is offering 4 different home series in the neighborhood, each with multiple home plans within that series.
Cadence
Cadence is Brookfield's townhome series.  They're offering 3 floorplans in Central Park that range in size from around 1,750 sf to roughly 2,100 sf.  These townhomes have an attached garage and porch on the first level, a wide open great room on the second level (kitchen, living and dining) and then on the third floor you'll find the bedrooms.  They don't include basements on this series.  Things to love about this series?  Several!  I think buyers will be attracted to the modern exteriors, the optional fireplace on your front porch (very cool!  I've never seen that before!), the optional office nook and most of all the optional rooftop deck!  The Cadence series is expected to have two HOAs fees, the Master HOA fee of $43/mth and then a second HOA fee of around $89/mth.  (It's typical to have 2 HOAS on a townhome series)  This series will typically end up in the mid to high $500k's range "all in" once you've selected all your options.  (more on how selections work with Brookfield below in this post)  To learn more about Cadence here is a page on their site where you can see the floorplans and optional floorplan upgrades.  What do these look like in 3D?  Good question… here is a 360 self-guided tour so you can check one out that they built in another neighborhood.
Tealight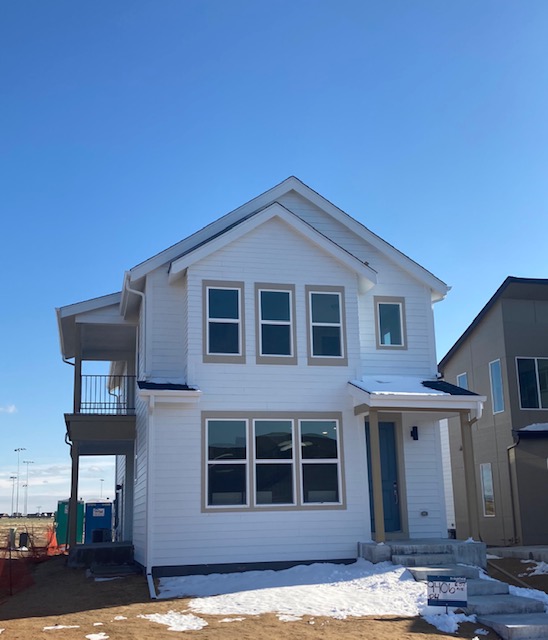 Tealight is one of Brookfield's single family home series. There are 3 homes in this series and two different elevations of each plan.  (An "elevation" means an exterior look and style)  They have a modern elevation and a contemporary elevation.  This series ranges in size from around 1,450 sf to roughly 1,650 sf above grade, meaning not including any finished basements.  They have 2-4 bedrooms depending on the plan and the options you select.  The main level on this series is where you'll find a wide open great room (kitchen, living room and informal dining).  Upstairs you'll find 2-3 bedrooms and possibly a loft, depending on the plan and the options selected.  Then if you choose to finish the basement you can add an additional  bedroom if you'd like.  One cool option I'm loving is the second story balcony you can add to several of the plans!  Several of these Tealight homes will face onto shared courtyards and some will face streets.  The ones on the street will only have the $43/mth HOA but the courtyard facing ones will have a second HOA fee of around $150/mth (which covers the maintenance of that shared courtyard).  These homes will likely finish "all in" in the mid to high $500k's depending on the options you select.  To learn more about Tealight here is a page on their site where you can see the floorplans and optional floorplan upgrades.
Signature  
Signature is one of Brookfield's top selling single family home series.  In Central Park they'll be offering 4 different floorplans and two elevation options of each plan. (again modern or contemporary)  This series ranges in size from 1,900 sf to 2,200 above grade, not including the finished basement.  (if you select that option)  In this series you'll find 2- 5 bedrooms depending on the plan and options selected.  The main floor of these homes has a very open layout, lots of windows to the patio space and several plans that can have a bedroom on the main level.  (which is a sought out option for many buyers!)  Upstairs you'll find 1 – 3 bedrooms and potentially a loft.  This series is going to work for a lot of Central Park buyers and I can see why it's been a top-selling series for Brookfield.  I think people will love the optional main floor study with it's own slider to the patio, the porches, the main floor bedrooms I mentioned and the optional rooftop deck.  (those aren't all available on each plan, those are some of the coolest parts of several different plans.)  The likely "all in" price range for this series looks like it will be high $600k's to the mid $700k's based on the plan and the upgrades.  To learn more about Signature here is a page on their site where you can see the floorplans and optional floorplan upgrades.  Here is a 360 self-guided tour of one of the Signature series homes that Brookfield built in another neighborhood.
Villa Portfolio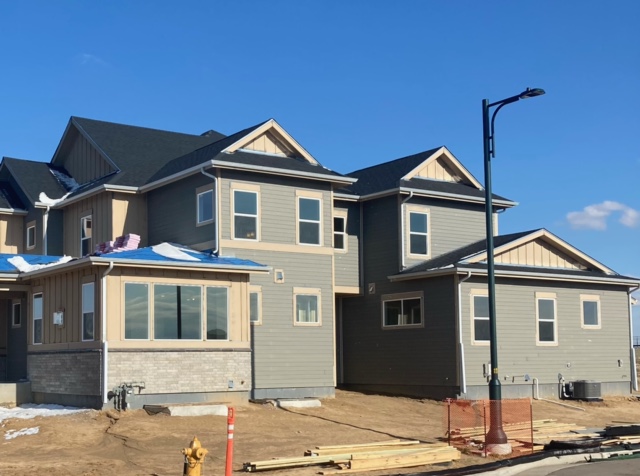 The Villa Portfolio is Brookfield's paired home collection.  In Central Park they'll offer two plans and both of them are really big!  These homes are roughly 2,400 – 2,800 finished square feet not including the potentially finished basement.  The plans offer 2-4 bedrooms.  On the main floor you'll find a great room (kitchen, informal dining living room) that really opens up nicely to either a covered patio, patio or deck (or a combination thereof based on what is selected).  You'll also find a main floor primary bedroom which can even have its own French doors to the patio too!  Upstairs you can have 2-3 bedrooms plus potentially a loft.  The 4th bedroom can be added if the basement is finished.  Buyers will love the optional wet bar and optional fireplaces that can be added in various places including the basement, which always seemed like such a cozy place to hang out to me.  The all in price range on these homes looks like it will be in the low to high $700k's.   To learn more about the Villa Portfolio here is a page on their site where you can see the floorplans and optional floorplan upgrades.
Where are they building these homes in Central Park?
The home series described above will all be built in the "North End" area of Central Park.  North End is just north of 56th Ave between Dick's Sporting Good Park and the Rocky Mountain Arsenal National Wildlife Refuge.  (Hey, did you know you can bike and run in the Wildlife Refuge now? More details in this recent blog post Mariel Ross from our team wrote recently)
Here is a handy PDF that shows you exactly where the 4 various home series will be built within the North End.
Can I purchase one of these Brookfield homes right now and what are the next steps?
Unfortunately, no, not yet! Brookfield has pre-planned many of these homes and is starting construction on a bunch of them but they aren't available for sale at the moment. So we have two suggestions for buyers that want one of these homes:
Sign up on Brookfield's interest list.  Once they start selling homes people that sign up earliest will be prioritized.  Signing up gets you on the list and the higher you are on that list the faster you'll have a chance to get a home. So the sooner the better and there is no risk in signing up!  You can go here, scroll to the bottom of the page and enter your info to sign up.
Engage a neighborhood focused real estate agent to help you stay "top of mind" with the builder.  Do this early in the process or you may not be able to add one later.  I know that sounds really self-serving, but it's true.  You pay the same price either way, so why not have an agent on your side that can help you get one of these homes and navigate the process.  Even if it's not us, get someone local that knows new builds and can help. (Why even have a buyer's agent on a new build?  This Youtube video Ashley Faller from  our team just did will help!)
How does the selection process work with Brookfield?
How you make the selections for your new home, and how much you can customize it, varies by builder. Some builders are custom or semi-custom, which means you can make tons of changes, even to the floorplans. Other builders only allow you to select finishes from pre-determined "packages" of pre-selected items.
Brookfield, in an effort to expedite receiving permits from the City, is pre-selecting which homes will go on each lot and making the structural selections for each home. (By structural selections I mean things like fireplace, finished basement, optional balcony on second floor, etc.)  So what does this mean for buyers?  It means when you contract on the home you shouldn't have to wait as long but it also means you'll have less choices to customize the home.  For example, say you don't value the sliding door to the patio from the master bedroom and want to remove it?  Sounds like if you ask the answer will be no, because those options are pre-selected.
When builders preselect these structural items what I see is that buyers have to make tradeoffs.  It's really hard to get the right home that has 100% of the items they wanted and none of the items they didn't want.  I'd encourage buyers to prioritize what really matters and then know that you won't get it 100% perfect.  (similar to how it is in resale market… where there are always tradeoffs)
In terms of interior design options, Brookfield will offer "packages" for buyers to choose from. For example, a package may have certain styles of carpet, tile, countertops, backsplash, etc. Buyers will have a range of packages in various price ranges and styles. In addition to those packaged items there will also be a short list of additional extra items they could select like shower doors (framed, frameless, etc), railing styles along the stairs (metal, wood, etc).
So you will have some choice with Brookfield but in general it sounds like they're prioritizing speed of delivery of the homes over the ability to customize. (which can be good or bad, depending on what the buyer is looking for!)
*Side note:  If you're thinking about building new and you're wondering which selections to choose in general, you may like this recent Youtube video from Mariel Ross on our team titled "Best Upgrades to Make on Your New Build Home".
Brookfield looks great, but should I buy a new build home or purchase a resale?
This is a tough question to answer, and it's really only one that you can answer based on your person situation.  Kailee Ackerman from our team laid out the pros and cons of each path in this recent video.
Ok, well that's plenty to chew on for now! Hopefully that adds some value to your home search and helps you get one step closer. If we can be of service and help with your Central Park search please reach out, we'd love to help as your buyer's agent. My contact info is below.