Fall will officially be here in a few days and autumn in Colorado is truly stunning. That's saying something from someone who grew up in picturesque New England. Our state's bright yellow foliage is spectacular and due mostly to the billions of aspen trees that blanket our mountains. Did you know our foliage season lasts longer than anywhere else is the country due to our 5 different climate zones which stagger the changes? The leaves begin to turn first in the northern part of our state about mid-September and slowly work their way south until mid- October.
I have compiled a list of scenic fall foliage drives below – some close to Denver and ideal for a day trip, others a bit farther away.
Grab your sweater, Pumpkin Spice Latte and get settled right into fall – happy leaf peeping!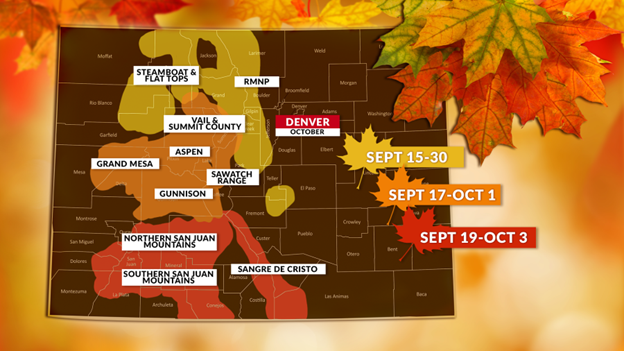 September 15- 30 (Colorado)
Buffalo Pass is an is an unpaved, short, steep and high mountain pass located in Routt County. Elevation 10,295 ft. the pass crosses the Continental Divide in the Park Range just outside of Steamboat Springs. Routt County is already hitting peak foliage season so take a trip up to Steamboat NOW and enjoy the colors.
NOTE: Flat Tops Wilderness area is also known for spectacular fall foliage.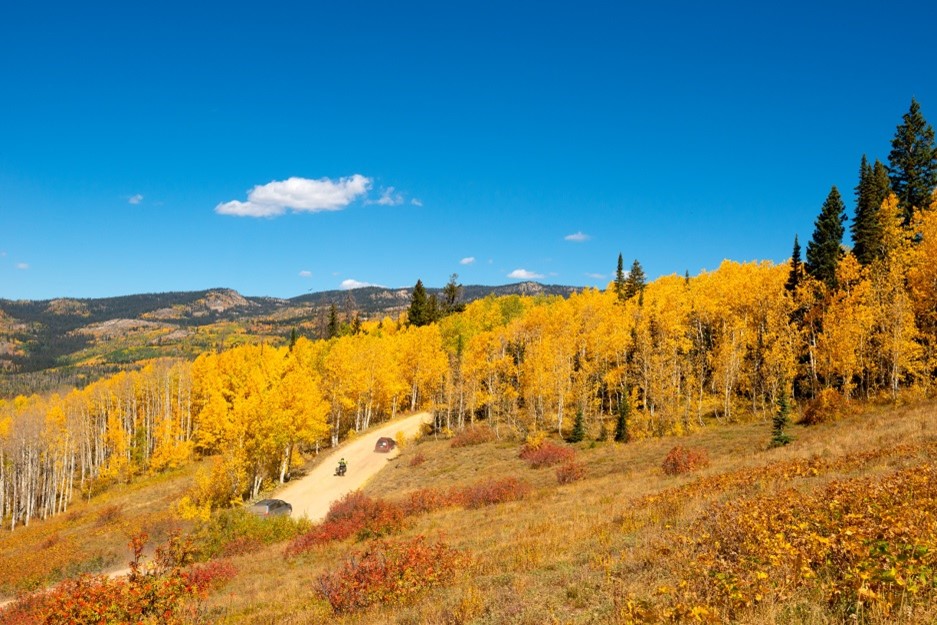 Soaring to an elevation of 12,183, Trail Ridge Road or Highway 34 passes through Rocky Mountain National Park between the towns of Estes Park and Grand Lake and is one of the best ways to see the Continental Divide as it cuts through Colorado.
September 17- October 1 (Colorado)
Squaw Pass
Squaw Pass is a fully paved road is about 30 miles from Idaho Springs to Evergreen and is called CO Highway 103. 9,790 foot mountain pass located in the Arapaho National Forest, roughly halfway between Evergreen and Idaho Springs, Colorado. The journey up and down Squaw Pass offers miles of scenic roadway filled with aspen trees, wildflowers and mountain views.
Guanella Pass is a very pretty and very popular high mountain pass in central Colorado, open seasonally and accessed from Georgetown. The 22 mile route encompasses highways 381 and 62. On this pass you'll have spectacular views of Mt. Bierstadt, Mt. Evans, and wildlife… and of course the gorgeous foliage.
Independence Pass
The scenic 36 mile drive over Independence Pass crosses the Continental Divide on the way from Twin Lakes, near Leadville, to Aspen. This scenic fall drive not only brings fall goodness straight to you, but you will encounter plenty of the namesake aspens showing off their fall colors along this drive.
September 19 – October 3 (Colorado)
October (Best for Denver)
This beautiful park is just outside of Denver, near Golden. An easily accessible state park brings some of the best fall colors near Denver. Take a scenic drive and then stop to enjoy a quick hike to Panorama Point and enjoy the spectacular views!
Denver's premier urban park is located at 23rd Ave and Colorado Boulevard and encompasses 330 acres of trees, lakes and more. The leaves in the city won't start changing for a couple of weeks.
This large urban park is located at S. Downing St. & E. Louisiana Ave. Known for its 3 mile walking path around the perimeter, large trees, flower gardens, lakes, tennis courts and more.
There you have it! I hope you enjoy the upcoming autumn season and changing colors as much as I do. If you have a favorite fall drive or area for leaf peeping, feel free to reach out! My contact info is below. Happy Fall!