You may have heard me mention once or twice on our Scoop videos, how much I appreciate the connectivity of the bike/pedestrian paths in Stapleton. For my family, one of the biggest perks of living in Stapleton is the ease at which you can get around the neighborhood on bikes, trikes, scooters, and skateboards.  These bike lanes and pathways connect our schools, restaurants, parks, public transportation, artwork and more to our community.
The foundation of the Stapleton bike system is the Denver Regional Trail System, from which smaller paths intersect at various points. Westerly Creek Park serves as the North-South backbone, which allows you to ride uninterrupted off-street trails from Montview Blvd. to Sand Creek Trail.
East-West "ribs" include Stapleton GreenWay Park, which connects you to Fred Thomas Park, the off-leash dog park and tennis courts, Dinosaur park, Rock Park, Stapleton Skatepark, Westerly Creek Elementary, and Stanley Marketplace.  The winding path down the middle of 29th street connects to Founder's Green and Central Park connects you to Punch Bowl Social and Eastbridge Town Center.
The only advisable bike route between North and South Stapleton is via Central Park Boulevard, either over or under the bridge.  It's noisy and there is a lot of traffic, but the sidewalks are wide and pedestrian friendly.
If you're heading to Dick's for a concert or Rapids game, riding can save nearly an hour versus driving. Parking is much easier on a bike!
There is even a bike map featuring the public art within Stapleton. The map below is for the public art south of I-70.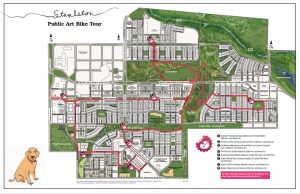 Public Art Bike Tour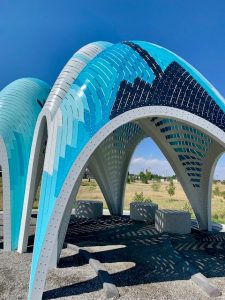 There is also public art to be found in the neighborhoods north of I-70. Take a ride to explore the different artwork areas in Northfield, Beeler Park and the North End.
The Stapleton Denver website shares a lot of information on the parks and open space available in all areas of Stapleton. You can even click on their interactive map to find the best place to watch a sunset!
Insider's Tip
An under-the-radar feature of the Stapleton bike trail system is the ad hoc web of single-track that has sprung up.  Along Sand Creek between the Westerly Creek Trail bridge and Havana St., there is a fun 2.3-mile loop that presents challenges even for the experienced rider, complete with a few jumps. Ride it two or three times for the days when you don't have enough time to drive to your favorite trail.
Whether you want to ride within Stapleton or out of Stapleton, there are many options to save on gas and add some exercise to life in the great Colorado outdoors!