When we saw the recent press release regarding the completion of the Oneida Park renovation in Park Hill we had to go check it out for ourselves. Check out our FB Live at Oneida Park's new coffee shop, Torpedo Coffee. Other new businesses in Oneida Park include a neighborhood pub, barre & yoga studio, butcher shop, and an ice cream shop. View the full press release below.
Oneida Park Announces Completion of Full Renovation
Creating a Restaurant and Retail Destination in Park Hill
A Variety of New High Profile Tenants Are Open For Business
Denver, Colo. – October 18, 2018 – Oneida Park, a neighborhood retail center spanning both sides of the pedestrian-friendly Oneida Street between 22nd & 23rd Avenue in historic Park Hill, today announced the completion of a its multi-million dollar redevelopment plan and the opening of several new tenants; successfully transforming the sleepy retail center into a vibrant neighborhood gathering place for the Park Hill, Stapleton and surrounding neighborhoods.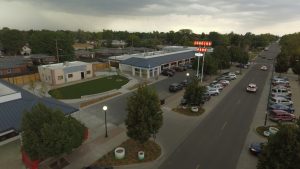 The project has reimagined the 1950's-built Oneida Park shopping center and features an 8,000 square foot outdoor courtyard oasis and children's play area flanked on three sides by local restaurants offering outdoor patios for patrons. Currently just one retail suite remains available for lease, a free-standing restaurant building of 2,400 square feet with large outdoor patio.
Through the renovation, the developers attracted a variety of new businesses which include:
Esters Neighborhood Pub– opening its second location in November 2018.
Torpedo Coffee– a new local concept that just celebrated its grand opening.
Flex Yoga + Barre– a premier yoga and barre studio with two locations that is now open.
DANG- Little Man Ice Cream's newest concept will serve up soft serve ice cream and is slated to open in Spring 2019.
The Local Butcher: a local favorite from Denver Central Market is scheduled to open Spring 2019.
"We created Esters to be a welcome member of the neighborhood that serves great food and craft beer to families and friends, and we couldn't be more excited to become part of the Oneida Park and the Park Hill community," said Paul Sullivan, owner of Esters Neighborhood Pub, who owns and operates the first Esters location in Virginia Village. He plans to open in Oneida Park in late 2018. "When we began looking to expand into another location, we thought Todd and his team did an excellent job designing Oneida Park to retain the character of the neighborhood while creating modern features like the kids play area and courtyard, landscaping and lighting that will draw members of the community to the location."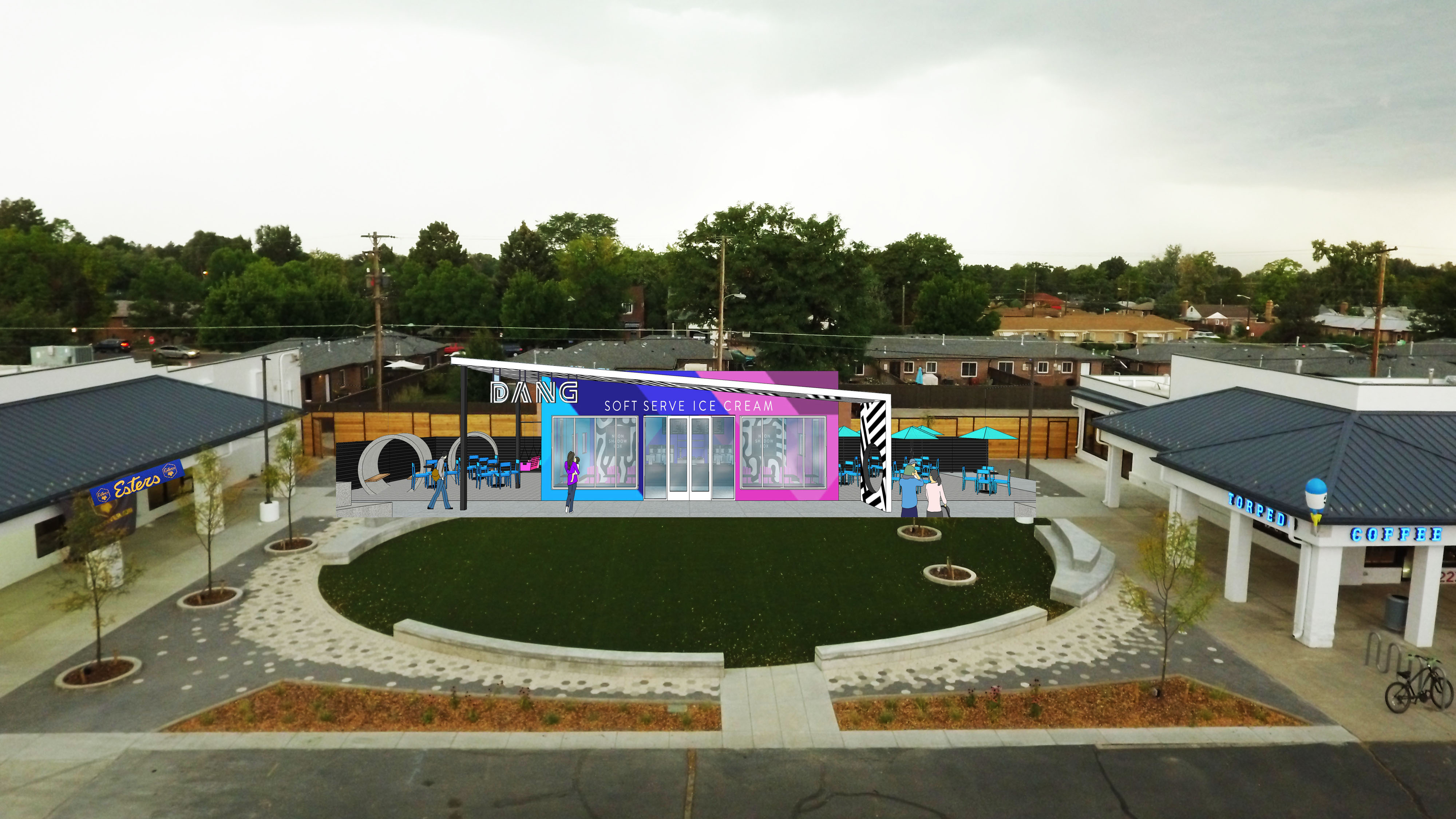 Other tenants currently occupying space at Oneida Park include Park Hill Veterinary Medical Center, Oneida Liquors, Spicy Thai II, Famous Philly Cheese Steak & Beer Garden, Zen Den Dog Spa, Love Fashion Nails and Beauty Bee Salon. The development offers ample parking onsite as well as free parking on Oneida Street. In addition, the shared outdoor space will allow patrons to relax and enjoy a coffee, a meal, or a cocktail while their children play within an eyes and ears distance – a first of its kind in Denver. The courtyard will also host special events like farmer's markets, musical and performing arts exhibits as well as seasonal attractions throughout the year.
"Park Hill is one of the great city neighborhoods in Denver's urban core and continues to draw new residents to the area- yet it has lacked the retail amenities that other neighborhoods offer," said Todd Snyder, a principal of the Oneida Park development. "We believe Oneida Park can now become a neighborhood gathering place for the Park Hill community and surrounding areas by offering affordable local restaurants, services and community events – a place residents can walk or ride their bike to with their family and friends to enjoy a great meal, to run a quick errand or to spend a few hours at an outdoor event.
Todd Snyder and Rick Firmine, local real estate investors, purchased the property in 2017 and have worked closely with Dig Studio, a local, award winning landscape architecture firm and Sonny Daze Landscaping for the courtyard and surrounding improvements. Oneida Park's design aesthetic embraces mid-century modern design elements dating back to when Oneida Park was originally built.
Todd Snyder, also a commercial real estate broker with NAI Shames Makovsky is marketing the property for lease. For more information on the project, vision, location, retail and restaurants, events and real estate opportunities, visit oneidapark.com, @oneida_park_denver or call (303) 534-5005.