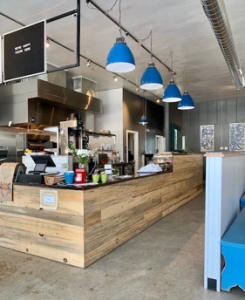 Shout out to a yummy new restaurant I recently had the chance to visit. Tessa is a delicatessen, but oh so much more! Upon entering this bright and open space, there is a kids space with toys and kids picnic tables. So cozy!
As you make your way up to the counter, the sign above greets  you with "We're happy you're here". Owners Vince and Jessica Howard opened the restaurant in November. They try to work with local ingredients whenever possible, have a full liquor license and offer Ramen Sundays! Check out the menu for more info or visit their website, to find out the different events throughout the season.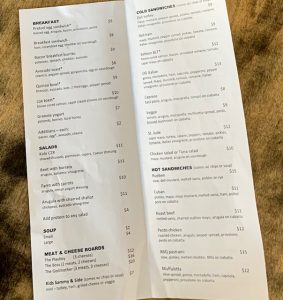 When I visited, Chef Vince and his brother Austin were ready to help us browse the menu. I chose the cauliflower rosemary soup with salmon BLT, minus the B. Wow, was that soup amazing! My friend opted for the pesto chicken sandwich. We scarfed down our lunches while chatting and loved every single bite. It was fresh and so flavorful!  I'm happy to know of a new local spot to grab lunch, dinner or even Ramen on Sundays!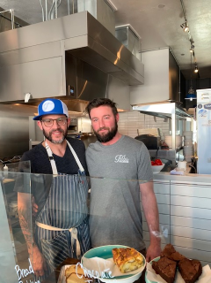 Located in Park Hill at 5724 E. Colfax Ave. Denver 80220. Check it out next time you're looking for something new. It might just become a favorite spot!
Open Tuesdays-Sundays 8 am – 8 pm
Happy Hour Tuesday – Friday 4-7pm with Half off Beer & Wine