During the holiday season, we (I don't think it's just me, right?!) hold a bit more stress in our body! One method of self-care that helps keep my body moving at optimum health is a visit to Moving Body Chiropractic. Dr. Emily Gerson is a local Stapleton resident and I always walk out of her office feeling better! Speaking of walking, custom orthotics can be measured in office for all ages. Are your kids complaining about growing pains, maybe it's starting with their feet!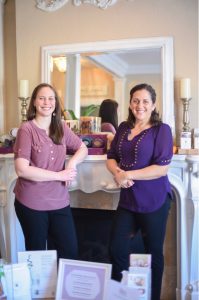 Moving Body Chiropractic is making it easier for you to schedule an appointment by offering more hours with the addition of Dr. Elena Northen, D.C. to their team.  Hailing from California, she started her career as a mechanical engineer from UC Berkeley, and now acts as a mechanic for bodies instead of a designer of machines.  "Engineering was interesting, but the body is even more fascinating.  Putting people's bodies back together is the most fulfilling career there is.  I love giving people back their bodies and their lives" Dr. Northen told the Stapleton Scoop.
She joins Dr. Emily Gerson at her West City Park practice, which already improves the lives of patients from the very young to the very old.  "Every age has their unique challenges, and it's important to keep your body moving through all of them."
Dr. Northen shared a bit about the philosophy of Moving Body Chiropractic.  "We believe that movement is life.  Chiropractic care isn't just for elite athletes and people in crippling pain. Moving well is necessary for all the best things in life: playing with our children or grandchildren, our kids taking their first steps, playing a pickup basketball game with friends, skiing without killing your joints – that's a big one in Colorado, still going for walks in our twilight years, finishing that home improvement project so you and your family can enjoy that porch swing.  We are honored to be a part of helping our patients move well so they can enjoy these moments that make up a good life."
Dr. Northen is accepting new patients now.  Mention the Stapleton Scoop and receive $25 dollars off your initial exam and treatment if you book by the end of the year.  Your body will thank you.