It's officially fall! Bring out the pumpkin spice! Although I admit I had my first PSL about a month ago. It certainly has felt like fall lately with a few cooler days. It finally seems like the record numbers of days above 90 is behind us and now is the time to enjoy cooler days, explore our Colorado Mountains and enjoy some leaf peeping!
Last weekend my family and I took a trip to Lake City, Colorado a little town in southwestern Colorado in the San Juan Mountains. My husband discovered it a few years back while hiking 14'ers. This area of the state has quite a few mountains above the 14,000 foot threshold. Regardless, one thing he noted was it was very beautiful. It was a trek from Denver with 2 kids and a dog in tow, (over 5 hours) but it was a gorgeous drive over quite a few mountain passes. The leaves were just starting to change colors. So you still have plenty of time to go explore and view the colors yourselves.  I have included a peak fall colors map below from a local weather channel but to me I think this weekend and next weekend will be best for peeping the stunning yellows and oranges we see with our Aspen trees.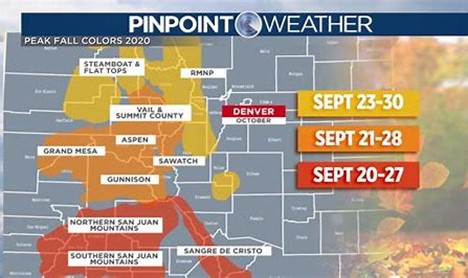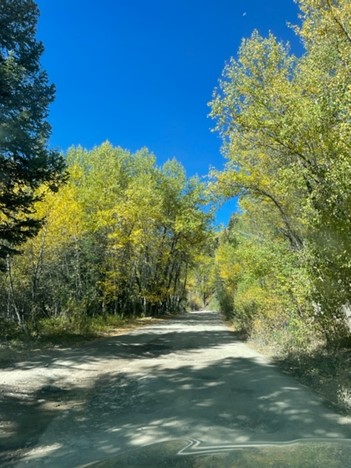 Leaf Peeping drives:
Engineer Pass – This mountain pass is one of the highest roads in Colorado at 12,800 feet above sea level. This is an unpaved high mountain pass which goes from Lake City, CO to Ouray, CO and it is quite far from Denver. It connects to the stunning Million Dollar Highway (CO 550). I am including it here because this was the drive we took last weekend and if you have time, it was well worth it
Buffalo Pass – is an unpaved, short, steep and high mountain pass located in Routt County. Elevation 10,295 ft. the pass crosses the Continental Divide in the Park Range just outside of Steamboat Springs. Routt County is already hitting peak foliage season so take a trip up to Steamboat NOW and enjoy the colors.
NOTE: Flat Tops Wilderness area is also known for spectacular fall foliage.
Trail Ridge Road – Soaring to an elevation of 12,183, Trail Ridge Road or Highway 34 passes through Rocky Mountain National Park between the towns of Estes Park and Grand Lake and is one of the best ways to see the Continental Divide as it cuts through Colorado.
Squaw Pass – is a fully paved road about 30 miles from Idaho Springs to Evergreen and is called CO Highway 103. 9,790 foot mountain pass located in the Arapaho National Forest, roughly halfway between Evergreen and Idaho Springs, Colorado. The journey up and down Squaw Pass offers miles of scenic roadway filled with aspen trees, wildflowers and mountain views.
Guanella Pass – is a very pretty and very popular high mountain pass in central Colorado, open seasonally and accessed from Georgetown. The 22 mile route encompasses highways 381 and 62. On this pass you'll have spectacular views of Mt. Bierstadt, Mt. Evans, and wildlife and of course the gorgeous foliage.
Independence Pass – The scenic 36 mile drive over Independence Pass crosses the Continental Divide on the way from Twin Lakes, near Leadville, to Aspen. This scenic fall drive not only brings fall goodness straight to you, but you will encounter plenty of the namesake aspens showing off their fall colors along this drive.
Fall Foliage in Denver is best in October
Golden Gate Canyon State Park – this beautiful park is just outside of Denver, near Golden. An easily accessible state park brings some of the best fall colors near Denver. Take a scenic drive and then stop to enjoy a quick hike to Panorama Point and enjoy the spectacular views!
City Park – Denver's premier urban park is located at 23rd Ave and Colorado Boulevard and encompasses 330 acres of trees, lakes and more. The leaves in the city won't start changing for a couple of weeks.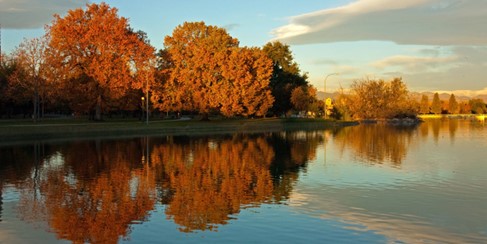 Washington Park – This large urban park is located at S. Downing St. & E. Louisiana Ave. Known for its 3 mile walking path around the perimeter, large trees, flower gardens, lakes, tennis courts and more.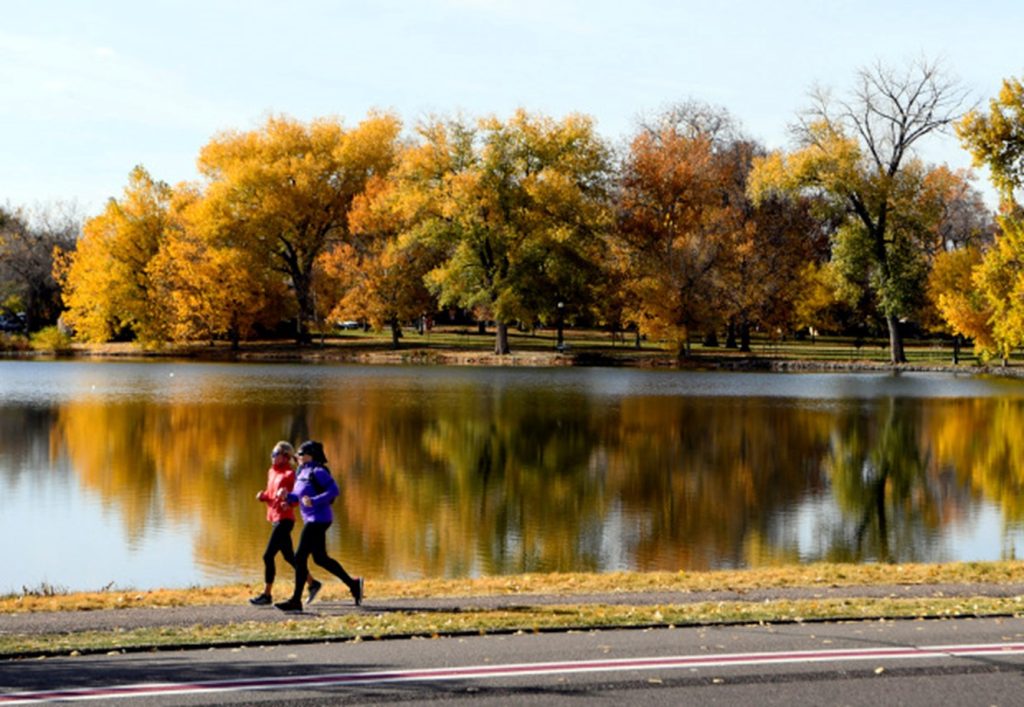 Enjoy the Beauty of Colorado!