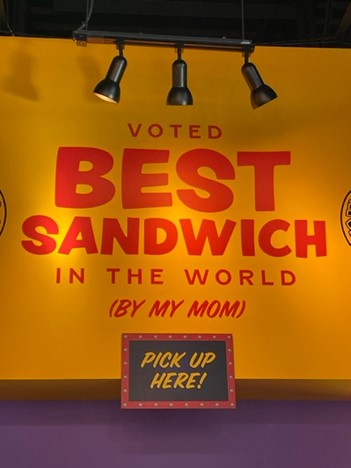 I hope everyone had a wonderful Christmas weekend if you celebrate. Either way I'm sure you were all just as busy as I was last week! In all the crazy I did have the chance to check out the new Ikes Love and Sandwiches sandwich shop located at 8300 E 36th Ave (near Sprouts) and I wanted to be sure you all got the scoop!
Ike's Love and Sandwiches began in 2007 in San Francisco and quickly grew to over 100 locations around California. A cult following has surrounded Ike's due to their love-for-all attitude (vegan, meat lovers, vegetarian, halal and gluten-free), top notch customer service and delicious sandwiches, Ike's solidified itself as a terrific place to grab a bite! They taut themselves "Ain't Your Momma's Sandwich Shop" because they truly have something for everyone with great ingredients and creative sandwiches. Be sure to try the hometown choices like the Terrell Davis or the Peyton Manning and ask for the dirty sauce!
Now, franchise owner Blair Woodfield set his sights on the Denver metro area to start a new batch of Ikes with their first location here in Central Park, another to come later this year in Highlands Ranch, and northern Colorado to follow.
Learn more in my interview with owner, Blair Woodfield, here.
Enjoy!
*Online ordering and catering available. Also delivery from all 3rd party apps: Grubhub, Doordash, etc.
Ike's Central Park
8300 E 36th Ave
Denver, CO 80238
303-568-9697
Open 10am to 9pm every day except Christmas and New Year's!
Website: https://www.ikessandwich.com/