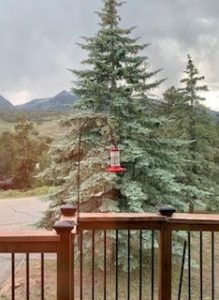 This summer we have slowed down a bit to take notice of things we may have missed in past years. For my family, this means spotting something that moves fast. (They're so hard to catch on an iPhone camera but check out the one I got here!) Hummingbirds are all over the place and great entertainment on summer evenings at home.
After finding the right feeder and food, we watched dozens of hummingbirds gather at our home. All in different colors and varieties. I picked two different feeders and both seemed to work equally well. One was from Walmart and can be found here. The other one I purchased from Tagawa Gardens and it has a glass container. I believe the brand was called Best-1. In both feeders I used dye free hummingbird nectar.
This led me to start a little research on what natural plants could bring hummingbirds and essential pollinators to our yard.
According to a recent article in Houzz,  "the following summer-blooming native plants hail from coast to coast. Consider adding one or more to your garden as a way to beautify your outdoor space and support local pollinators — you can plant in summer but fall is ideal, as cooler temperatures will make it easier for plants to establish themselves. To reap the most benefits, be sure to choose a species native to your region that will thrive in your yard's conditions."
Here are some good options for Colorado.
Black-Eyed Susan
When to plant: Put nursery plants in the ground from late spring through midsummer; sow seeds in fall or spring.
Purple Prairie Clover
When to plant: Sow seeds spring through fall.
Fernbush
When to plant: Plant cuttings or sow seeds spring through fall.
Joe Pye Weed
When to plant: Plant seeds or readily available nursery containers in fall.
Maximilian Sunflower
When to plant: Spring
Vermilion Bluffs Mexican Sage
When to plant: In mild climates, it blooms year round.
Of course, I am not a professional but if you'd like to consult one, here's a list of some of my favorite nurseries around town. I have found these locations have an accessories store to explore and helpful advisors to guide in your purchase.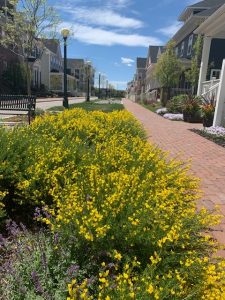 City Floral Garden Center
1440 Kearney St, Denver, CO 80220
303.399.1177
Nick's Garden Center
2001 S Chambers Rd, Aurora, CO 80014
303.696.6657
Tagawa Gardens
7711 S Parker Rd, Centennial, CO 80016
303.690.4722
Hopefully you enjoy this back to basics time together outside catching up with nature just as much as my family did with this little hummingbird activity.
Featured Photo by Anchor Lee on Unsplash