Oh COVID19, you have really hit us hard, completely upended normalcy, and taken away or changed so many of the things we love and used to take for granted. But you have also presented us with new perspectives and made us consider life and the future in a different way. If it weren't for this pandemic, my family would probably never have even considered buying 35 acres of remote, off-grid forest. Here is the story of how we ended up owning a whole lotta trees.
Let me start with a bit of background. My husband and I met online, on a lesser known matchmaking site that is for "fit" folks. No, we aren't and weren't super fit folks, but there were two types of people when we were on this site (over 10 years ago now): the gym goers and the outdoorsy people. We both fell into the outdoorsy category. Before having our kiddo, we would mountain bike, road bike, hike, camp, backpack, ski, snowshoe, and even dabbled in rock climbing; so many of the classic Colorado activities. Now that our kiddo is in kindergarten and I have gotten past some health issues, we have finally started getting back into some of those things (well, we had started until COVID19 hit). Going to one of our favorite campgrounds with other people around just didn't feel super safe to us this summer. Even hiking got to be hard because trails became super busy. (I am at increased risk and we have kept my parents in our bubble, so we have tried to stay extra cautious since all the insanity began in March.)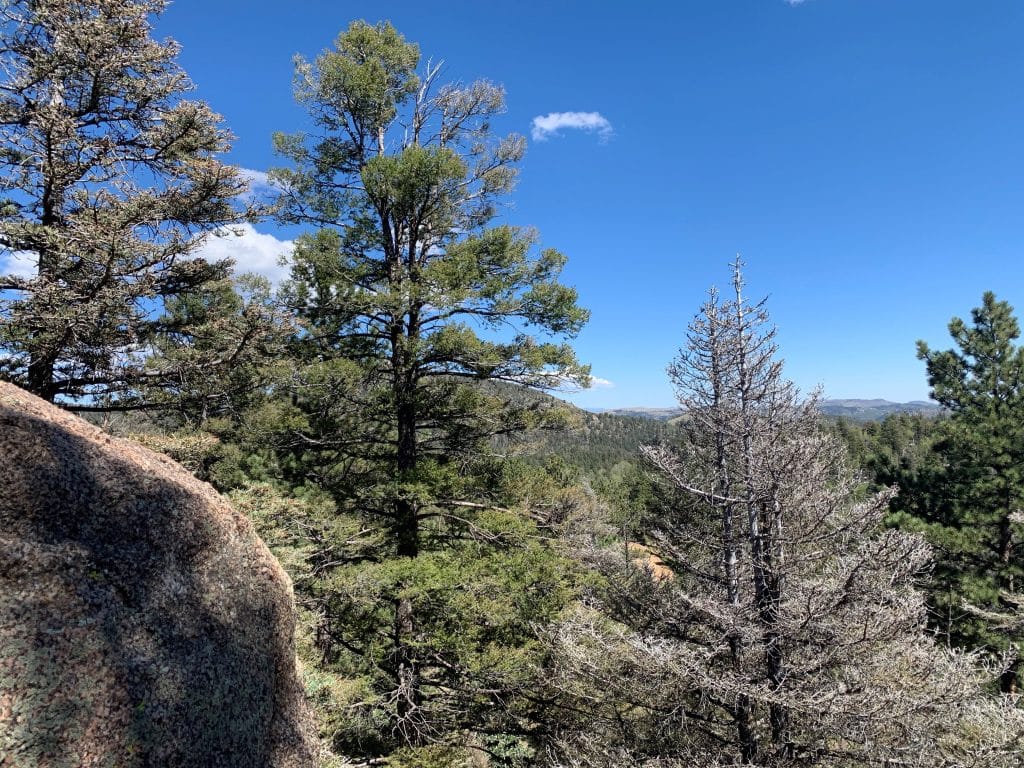 Luckily, my long-time acupuncturist and friend came to the rescue. She owns some land down in the southern part of the state (basically halfway between Salida and Canon City). She has owned it for about 30 years now, and she and her son finally built a neat little earthen bag cabin a few years ago. It is the cutest little circular stucco hobbit house I have ever seen. Over the last 15 years of knowing her, I have heard stories about her 35 acres of camping bliss where she and her three boys (now all grown up) would spend summers making forts, running wild, and reconnecting to nature. Well, this year when she heard we did not plan to go camping because of the pandemic, she offered to have us come down to her land to camp. She sleeping in her cozy little cabin, and us socially distanced in a tent a good 200+ yards away.
The land is all off grid, so it was sort of a beautiful hybrid of car camping meets backpacking. You have to bring in all your water, keep all the food in the car or her locked shed (because bears), pack out everything, and bury your poo. You just don't have to carry any of it on your back! So, we loaded up the car with all the camping gear, my current knitting project, lots of food and water, our new bucket with a toilet seat, a shovel to go along with said bucket, and drove the 3.5 hours to "Miss Pat's Camping World", as my son dubbed it.
The land is near the Arkansas headwaters and a small town called Cotopaxi and is about 3000 ft in elevation above it. When we arrived at the "neighborhood" main entrance gate, we saw a sign saying, "Land for Sale" and the first tiny seed was planted. Once we set up camp, Pat had us drive over to one of the neighbors' where signal is good enough to check phones, and to show us the adorable little cabin these neighbors built (while not an actual tree house, it very much has Tree House Masters vibes). She also had us follow her to the lot that was for sale "just to check it out…see, it has some beautiful views and a nice flat area to camp…"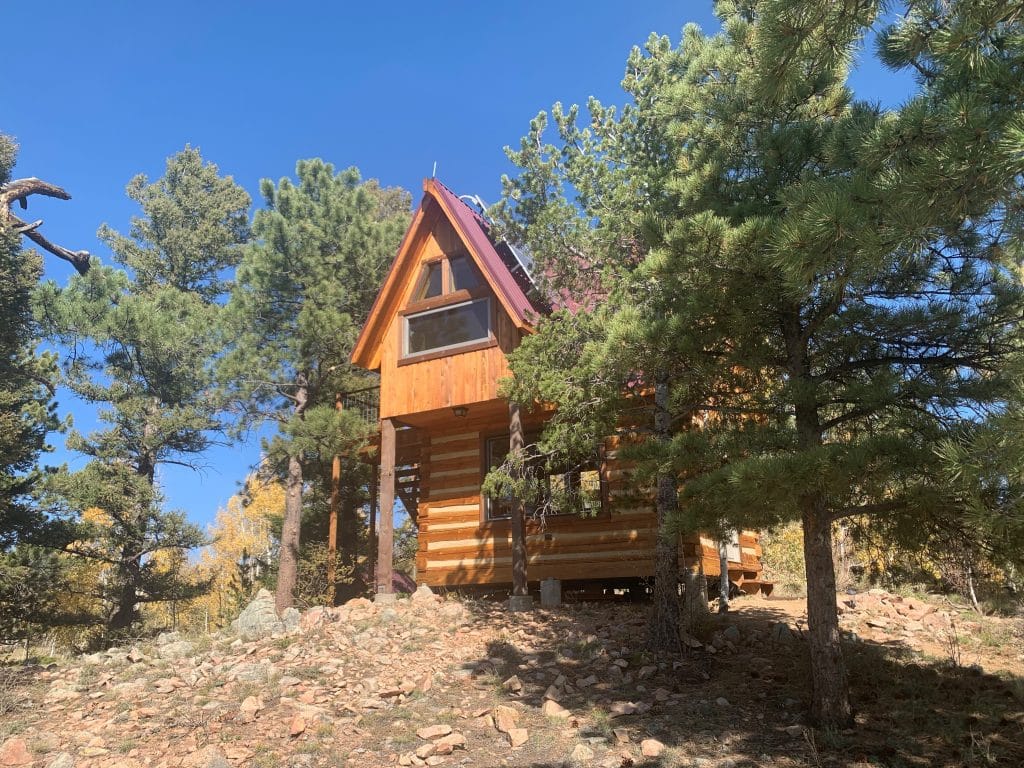 By this point a handful of seeds were now planted. All weekend, we joked about buying that lot. We had the best time camping. The area this neighborhood is in was once an old sheep ranch that is now 40 parcels that are each 35 acres and it is surrounded mostly by hard to get to BLM land and other private neighborhoods with large lots. There are ravines and ridges, pine trees and aspen, spectacular views of three different mountain ranges from high points, great rock outcroppings, and a sense of quiet and peace that one only finds in nature. We went on hikes, the kiddo climbed and collected rocks, we drove down to play in the river and wash said rocks, we woke him up in the middle of the night to see the incredible stars, and we relaxed. We pretty much fell in love with the area and in love with the idea of having our own private camping paradise. Just imagine…We would be able to camp any time we wanted without having to worry about making our schedule and our friend's schedules and the available campsite reservations all sync up. We wouldn't ever get stuck next to loud, annoying strangers who blast music, or stay up partying super late, or have a kiddo who has night terrors and wakes up the whole campground (that was not a fun night). We could have a shed to leave all the gear or maybe a little cabin to sleep in. We could have our very own place to escape to whenever we needed a break from the city. And it would all be safe regardless of what is happening with the pandemic and the world.
When we got home, I immediately started looking into land loans. Turns out if you say the words "off grid" and "we don't plan to build", banks all but hang up on you. We finally found one bank that was willing to do a land loan, but they wanted something built withing four years and the interest rate was ridiculously high. As a last-ditch effort, I emailed our mortgage broker we used when we bought our house (and whom I recommend to clients in need of a lender). I explained the situation to see if there was any chance of doing a refi and pulling out enough cash to buy the land. Amazingly enough, he found a product that would work (he really is a fantastic mortgage broker – let me know if you need his info)! He ran the numbers and with this product we would indeed be able to pull out enough cash to buy the land we wanted as long as our home appraised for what I expected it to. Right now is such a great time to refinance to either lower your interest rate and payment or pull out cash for whatever your dream is (kitchen remodel, land or luxury RV purchase, consolidate debt…). Check out this article by my teammate Joe to see if considering a refi makes sense for you right now.
So, we started the loan application to refinance. We met with the Seller's Agent down at the land to walk the property and find the survey pins that mark the lot lines. We talked with him and were pretty transparent about the whole refi plan (per our refi lender's advice). We ran a search on land throughout the state and even in southern Wyoming to see if we found anything we liked as well. We discussed and re-discussed pros and cons. We decided this was the land we wanted. The land had been for sale almost two years and was listed at $140,000. We went ahead and submitted an offer for $115,000. They countered at $125,000, we accepted, and we were officially under contract for 35 acres of off-grid land!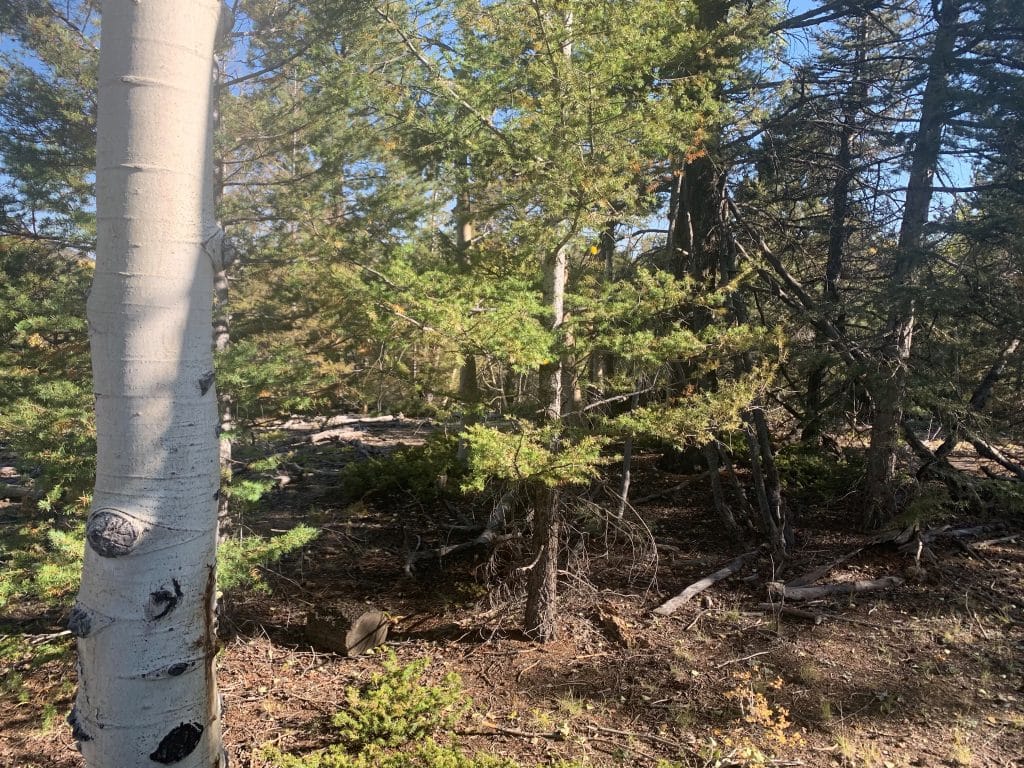 The process for buying land is very similar to buying a house. You get a title commitment and you can have a number of various inspections run (soil quality, surveys, other environmental tests…). Since we knew the history of the land from my friend and had walked it a few times, we decided there were no formal inspections or testing we wanted. The title commitment showed the mineral rights are owned by the railroad company. Apparently, this is super normal in Colorado as it was done way back when as a way to help lure the railroad companies into certain areas. We don't have surface or run-off water rights (again, normal in Colorado) but we do have the right to drill a well (which costs around $25k). We walked the land again with a friend of ours who works in the environmental science and land reclamation world and inspected inside the small shed that is on the property (it has been operating as a mouse hotel).
Just like when you buy a home, you submit an Inspection Objection. We asked for a credit from the Seller to go towards removing some detritus (about a dumpster's worth of garbage from an old camp toilet to a few broken grills, some sheet metal, and various other things) and to go towards dead tree removal/fire mitigation that had not been kept up with by the owners. The Sellers refused and so we took the full three days between the Inspection Objection and Resolution deadlines to really think about this purchase and if we truly wanted to go through with it. It wasn't the $1500 price reduction holding us back, but we figured this was a good chance to re-list the pros and cons and really think about it all since this was our last chance to walk away and get our earnest money back.
The Seller's Agent got a bit nervous and called to see what we were waiting for. Again, I was very transparent and just explained we were taking their refusal as on opportunity to really make sure this is a good decision for us. We decided on the morning of the Resolution deadline to withdraw our Inspection Objection and move forward with the purchase. Low and behold, a few hours after withdrawing it, the Seller's agent emailed that the Sellers had emailed him earlier that same morning agreeing to give us a partial credit. So, we ended up with a $700 reduction in price! Once that was all said and done, we just had to wait for the refi to close. We based our land contract dates on the refi dates so that everything would line up nicely and we would close on the land about 14 days after we closed on the refi. When you do a refi, there is a mandatory 3-day grace period after closing in case you change your mind. The refi, therefore, does not fund until 4-5 days after closing and I wanted to make sure we had plenty of cushion built into the timeline in case the refi took longer than expected. Since we were buying the land with cash and the refi closed on time, we were able to bump up the closing to just 7 days after the refi closed and we were able to do a fully virtual closing on the land. I arranged to have the cash wired from the refi title company to the land deal title company so that everything was super easy.
While we waited for our closing dates to arrive, we started dreaming up our plans for the land and completing the various paperwork, disclosures, and tasks for the refi loan application. The appraisal on our Denver home was ordered for the refi and came back right on point with the Comparative Market Analysis I had run. (A CMA is similar to the appraisal process where we pull comps to determine value and is what we Realtors run on a home for clients who are thinking about selling or buying a home so that they have a good idea of what a reasonable price is for a listing. I'd be happy to run one for your home if you are considering selling or just want an idea of what your home may be worth. There is no charge nor obligation for this!). Since we would be paying cash for the land, no appraisal was needed for it. The Title company did want a survey done, but luckily the original plot survey map of the neighborhood was sufficient, and a new survey was not necessary.
Because rates are so low right now and lots of people are refinancing, the refi process took a full 60 days. So, we had plenty of time to think about and make plans for our land. My son wants a zipline. I want a hiking trail to this giant rock outcropping that has incredible views and to maybe put a picnic table by the rock. My husband is considering putting in a mountain biking trail and realized he will need a chainsaw and chainsaw chaps (and chainsaw lessons) and that has all given him some good motivation to get into better shape this winter (there is a lot of beetle kill and dead fall we will need to deal with for fire mitigation).
We looked at all sorts of different options for shelters from shipping container homes (check out this post by my teammate Amy about shipping container houses) to tiny homes and campers and yurts. Based on costs, what is allowed with the HOA for the neighborhood, and conditions (it needs to be more mouse and bear proof than a yurt), we have settled on starting out with a cute shed that has windows and a little front porch to be our sleeping quarters (no electricity, no plumbing, just sleeping). That way, we can have a comfy bed and don't have to pitch a tent. Here is a link to the website we have used to figure out our shed wishes. Along with our "shed-majal" for sleeping, we will either use the existing shed if we can salvage it or get a new one to become the outhouse. (My husband has done much research into camp toilets…who knew there were so many options.) We plan to have a nice open-air pavilion structure with an all-weather table and chairs, a comfy outdoor lounge set, some permanently installed stainless steel food prep tables, a refillable large water container with pump and stainless steel bin for the sink, and some good bear proof boxes that will be the kitchen/eating and shaded seating area. We of course also want to build a nice fire pit with seating around it (and make sure it will also work for a propane fire table so we can still make smores safely when fire bans are in effect). Eventually, we want a second shed to be a bunk house for guests who don't want to sleep in a tent (aka my parents).
Wait back up a bit, did she just say their off-grid land has an HOA?!? I sure did! We talked about the pros and cons of that and looked over the restrictions. The HOA has only one short page of covenants and are things we felt were positives (for example no non-working, non-registered vehicles can be kept on the land unless kept in a garage/structure, you have to build a certain number of feet away from roads and lot lines, no dumping or letting garbage pile up like old fridges and the like, and a few other things that we were comfortable with). The HOA is only $350ish a year and covers road maintenance, plowing, and the solar-powered gate for the neighborhood entrance. We liked the idea of the area being gated so that strangers then can't easily come onto the land. An HOA and gated community are certainly not for everyone, so if you are looking at buying your own plot of land, be sure to consider what you are and aren't okay with. You can also request HOA covenants before putting an offer in from the listing agent to make sure there are no non-negotiables for you. I would definitely recommend not automatically ruling out areas with HOAs or gated entrances before seeing what exactly their fees and covenants include. I personally would not want to end up looking out over a neighbor's old car graveyard and discarded appliances or to have anyone be able to easily access our land without permission.
Our neighborhood is plowed during the winter as there are a handful of people who have built full on houses and live there year-round. But for us, this will only be a three-season location for now. Over winter, we will continue to hone-in our shed plans and designs. We've already met with a local contractor who can do some dead fall removal and land clearing so that when the snow all melts in the spring he can get started. The estimate to clear this small area of the land where we want to make our base camp is $7,000-9,000 (he said there would be at least 50 dump truck loads of wood that they would have to cut down and move to some spot on our land where it won't block views). We may have to just tent camp for the first year or two depending on what we decide we really want shed-wise. And no, pre-COVID, I did not ever anticipate having "shed dreams" but now I absolutely want a cute little shed with a front porch and maybe window boxes. Eventually, I have dreams of an amazing shipping container home or some sort of cool tree house compound (thanks Instagram), but those will have to come years down the road once savings can be built up. Right now, I can't wait for spring when we can start using our very own camping paradise regardless of what is going on in the world.
If buying land or a mountain home is a dream of yours, feel free to reach out to me at stacy@focus-realtors.com. While we don't typically do land deals for clients, we do have agents in various counties that we have worked with before and can refer you to so that you know you'll be working with someone good. I'm also happy to help set up land searches through our online MLS system or answer any questions you have about the land buying process.