New to Central Park (formerly Stapleton) and Need the Lay of the Land?
Welcome!  We're glad you're interested in checking out the neighborhood.  Almost our entire team lives here with their families and loves it so we think it's a neighborhood worth exploring.  We think you'll find the same to be true.  This page is for the people who are new to the area and want to get a quick overview of all the community has to offer.  We hope this information is helpful and if you still have questions or you think you may want to move to the area we'd love to to chat.  You can call me on my cell at (720) 299-1730 or shoot me an email at joe@focus-realtors.com and I'll get you connected with the right Focus agent for you search. We're neighborhood real estate experts with discounted commissions, so helping people interested in the area is what we do!  You can learn more about our services in these FAQ videos.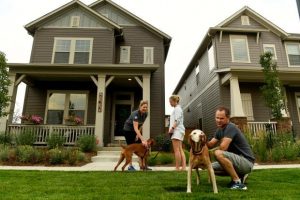 The People:  We put this first on the list because above all else the people that live in a community are going to make it what it is…everything else is secondary.  In our experience Central Park is full of active, entrepreneurial, giving, caring and family-oriented people.  We've seen countless examples of people caring for their neighbors and going out of their way to help the less fortunate.  There are families without kids (all are welcome!) but most households tend to have children.  On our block 80% of the homes have kids, which seems pretty representative of the area as a whole.  (not hard stats there, just our gut feel)  This makes for a great place to raise kids.  We love when our neighbor kids ring the door bell and ask "Can Emme (our 11 year old) come out and play?"  That's the kind of neighborhood we were looking for when we chose this community.
What is Central Park?:  It is a new urbanist master-planned community built on the former site of the Stapleton International Airport.  The airport, which was replaced by DIA, closed and in the mid 90's a plan was devised to redevelop the abandoned airport.  Forest City Enterprises redeveloped the community and then in 2019 the remainder of the development was sold to Brookfield Asset Management, who plans to complete the project.  It's the largest infill project in the country!  The community has been a big success, remaining one of the top selling communities in Colorado and typically in the top 10-15 selling master planned communities nationwide year after year!  Upon completion, it's anticipated the development will be home to 30,000 people and 12,000 residences.  Want a little more background info, you can find that here on the Stapleton Wikipedia page.
The Location:  The community is on the East side of Denver near the intersection of I-70 and Quebec St.  The location is great for those who want to be near downtown, Cherry Creek, the Fitzsimons medical campus or DIA, the airport.  You can drive downtown in about 20 minutes and a few more minutes to park once you get there.  DIA is about 25 minutes away driving.  The RTD A Line opened in 2016 and provides easy access to downtown and the airport. (On the light rail from Central Park Station it takes about 12 minutes to get to Union Station downtown and about 23 minutes to get to Denver International Airport.)  The first 10 years of building  occurred South of I-70 but that is now almost nearly built out and the builders have been building north of I-70 for the past 5+ years.  The development is actually down to it's last new residential area, called North End.  Homes in this area are selling and you can get an update on all the 9 active builders here.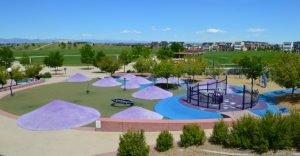 The Parks & Amenities:  One of the first things you'll notice  as you drive through the neighborhood is the parks…they're everywhere!  The master developer did a
great job of keeping a tremendous amount of open space in the plan, which is in sync with the new-urbanist planning movement.  (roughly 33% of the whole neighborhood is open space!)  First of all, the neighborhood is home to Central Park, an 80 acre park that is the third largest in all of Denver.
In addition, spread throughout the community are tons of pocket parks, greenways and trails that connect the whole area.  So how did they create all these parks and open space and still make a profitable development?  The short answer is they took the space for the parks from the homeowners' backyards.  I say that in a joking way but you'll notice the backyards in the neighborhood are small compared to some other areas.  This was intentional and it was done based on a tenet of new urbanism, that people shouldn't be in their back yards secluded with just their family, they should be out in the parks being part of the larger community!  This concept of small lots and more parks isn't for everyone but it appeals to those looking to be an active part of a community.
In addition to regular parks, the neighbohood has 2 dog parks (one on each side of I-70), a climbing wall, an indoor climbing crag called "Ubergrippen", a food centric market called "Stanley Marketplace" the Westerly Creek Greenway, the Bluff Lake Nature Center, the Sand Creek Greenway, access to the Rocky Mountain Arsenal National Wildlife Refuge and much more.  For additional info on all these parks check click here.
The Homes:  There is a mix of housing in the community including for-rent apartments as well as for-sale condos, single-family attached homes and single-family detached homes.  Home prices are in the mid $200's to the $1.6M range, so there are lots of options.  Typically the homes are 1,600 – 3,000 square feet and most are two or three stories with basements (finished and unfinished).  There are some ranch style (one story) homes but that style is not found as frequently.  Homes almost always have a front porch and alley-loaded garages (there are a few exceptions of homes with front loaded garages but they are set back and rare).  Again, the emphasis is on community (hang out on your front porch and chat) rather than emphasizing garages and the automobile.  The porches and lack of ugly dominant garage doors (just my opinion!) are two of my favorite traits of the area.
There are nine active builders in the area offering new homes including Lennar, KB Home, Wonderland Homes, Boulder Creek Builders, Thrive Home Builders, Parkwood Homes, David Weekly Homes and Infinity Home Collection and Brookfield Residential.  You can learn more about each of these 9 builders here and if you're looking for updates on housing in the area we have two suggestions:
Be sure to subscribe to our blog, Central Park Scoop.  We do a real estate update each and every Friday to keep you current on the latest available homes.  You can sign up here, it only takes 10 seconds and we won't bombard you with emails.
Second, if you're considering building a new home in North End (the last new build area within the community) you'll want to grab our North End Builder Cheat sheet.  It provides you with basic info on each of the 9 builders and shows you the likely all in price range so you can quickly zone in on the best fit for your needs.  You can grab that here.  If you like what you see, the builders all have model homes showcasing some of their latest floor plans.  We've developed relationships  with the sales staff at each builder and we're happy to chat about your home search if you'd like to get started.  Please contact Joe Phillips at (720) 299-1730 to get rolling.  For more info on new builds, resale homes or buyer/seller resources check out the Real Estate tab on the Central Park Scoop home page.
The Schools:  The community is home to quite a few schools and more are coming. To see a list of all the schools, broken out by elementary, K-8, middle school, high school, etc you can check out this handy list.
If you're curious about how you get into a particular school you can have an initial chat with a Focus Real Estate agent or you can reach out to our friend Keely Buchanan from "Preparing for Denver Kindergarten".  She's created an entire business out of helping families figure out the School Choice process!
The Pools:  Central Park has 8 pools including 7 outdoor pools and one indoors at the Central Park Recreation Center which is really
more like a small amusement park than a pool.  Walking to these outdoor pools in the summer for get togethers or a dip with the kids is one of the best parts about living here in the summer.  Each pool is unique and fun in different ways.  All outdoor pools are covered by your HOA payment ($43 per month is master HOA fee) and the indoor pool is part of the Denver Rec system so there are separate membership costs for that facility.  You can learn more about the pools here.
Gyms & Workout Options:  This is an active community and we have tons of workout options!  To start, we have Central Park Recreation Center which was built in 2011.  It's great, and very affordable.  You can do your cardio while enjoying in a breath-taking view of the mountain range.  Basketball courts, pools, weight room, workout classes, community activity rooms and more.  Daycare is available which makes it functional for the parents in the area.  Being a member at the Recreation Center is an additional fee and it's not included in an owner's typical $43/mth HOA fees.  To check out current pricing give the rec center a call at (720) 865-0750.
Then we have Bladium, another large gym which also has a great Crossfit tribe.
Then beyond the typical gyms we have so many great niche options for folks that enjoy cycling, yoga, barre, more Crossfit, personal trainers, Pilates, camps, Curves, F45, Kickboxing and more!  You can learn about all those and get contact info in this post we titled "Finding Fitness & Health in Central Park (from A-Z)".  If you don't find an option here that you like I think you may just not want to work out!  (I get it!)
The Shopping:  The community has several commercial areas featuring plenty of restaurants, retail shops and the basics such as groceries and big box stores.
The one that has been here since the beginning is 29th Avenue Town Center.  This area features restaurants, a grocery store, spa, a wine shop, coffee shops, an ice cream shop, and more that are all accessible from the homes in the western end of the neighborhood.
Another town center that came along is the Eastbridge Town Center.  This town center is located on the Eastern side of the neighborhood and features a grocery store, Constellation Ice Cream and several great locally owned restaurants including Cativella (our favorite!), Los Chingones, Hashtag and Cholon (ok this is also tied for our favorite!).
The next shopping area to mention, which is the most unique one in my opinion, is Stanley Marketplace.  Technically just a hair outside of the community in NW Aurora, the Stanley Marketpace is the adaptive reuse of an old abandoned warehouse that used to serve the airport when it was located here.  The marketplace now has 50+ local businesses in it!  It's food-centric so there are plenty of restaurants, several beer halls and my favorite coffee shop, Logan House Coffee.  It's a great place to hang out and gather with friends, we highly recommend it even if you're just passing through the area.
Less walkable and more suburban feeling commercial areas include Quebec Square and The Shops at Northfield.  (In these areas think Harkins Movie Theater, Gameworks, Zen Sushi, Bass Pro Shop, Target, Wal-Mart, Sam's Club, Home Depot, Torchy's Tacos, Wahoo Fish Taco, Starbucks, Improv Comedy, etc.)  These can seem a little less exciting, but honestly they're nice to have close by.
So there you have it… a brief overview of our community!  If you have questions, need more info or you'd like to start a home search you can reach us here.