Last weekend I hiked my 2nd 14er… you may have seen the story on our Facebook and Instagram accounts. Have you ever considered hiking up one of the 53 Colorado peaks that surpass 14,000 feet in elevation? A LOT of people have and it's really become a thing, a sense of pride, bragging rights for most who do it. I know I felt a lot of pride in accomplishing that goal.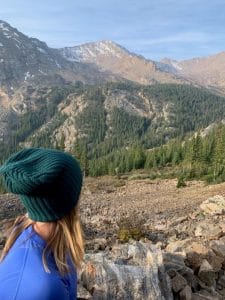 To be honest, I hiked my first 14er when I was only 23 years old so it had been quite a hiatus to finally undertake my 2nd one but I'm glad I did! I remember enjoying it a bit more all those years ago… despite a few blisters, summiting too late and thus getting caught in a scary lightning storm which definitely made me realize the importance of starting these kind of hikes early. This time around I felt my age more than I did on my first go (and still got the blisters) but really that is why I wanted to do it and to push myself to see what I can STILL do! Plus, it's a wonderful way to see the beauty of our state.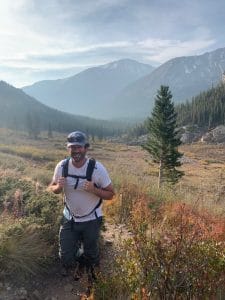 Hiking a 14er is not like hiking a regular trail along a picturesque creek, it's not leaf peeping and it's even not a moderate uphill hike in the mountains. Hiking a 14er is truly something different. It is a test of your strength both mentally and physically and in my opinion it is a HUGE accomplishment to complete even just one. It was a serious challenge for me but again so glad I did it. I also did it because my husband asked me to… he has a group of friends who do a few each summer and their end goal is to "bag em all" so this was one that he missed out on and asked if I'd accompany him so he could get back on track with his friends. They have each done about 21-23 summits so far… quite impressive if you ask me!
Details
There are 53 Colorado mountain peaks that rise over 14,000 feet spread across 7 different mountain ranges scattered across our great state. Of the 53, 5 don't actually count if you're "bagging 14ers" because they fail to rise more than 300 feet in elevation above their neighbor thus if you hiked up it from the neighbor by way of the "saddle", it doesn't really count but since it is above 14,000 feet it is considered a 14er – confused yet? The tallest is Mt. Elbert in the Sawatch Range towering above us at 14,433 feet above sea level. The shortest is Sunshine peak of the San Juan Mountains coming in at 14,001 respectively. In terms of hiking up them to the summit (or tallest point) they range in difficulty through a class rating system starting at class 1 to class 5. Most mountains also have different routes you can take all having different difficulties.
Class 1 – Easy hiking – usually on a good trail.
Class 2 – More difficult hiking that may be off-trail. You may also have to put your hands down occasionally to keep your balance. May include easy snow climbs or hiking on talus/scree. Class 2 includes a wide range of hiking and a route may have exposure, loose rock, steep scree, etc.
Class 3 – Scrambling or un-roped climbing. You must use your hands most of the time to hold the terrain or find your route. This may be caused by a combination of steepness and extreme terrain (large rocks or steep snow).
Class 4 – Climbing. Handholds and footholds are required for upward or downward progress. Rope is sometimes used on Class 4 routes because falls can be fatal. The terrain is often steep and dangerous.
Class 5 – Technical climbing. The climbing involves the use of rope and belaying. Rock climbing is Class 5. NOTE: none of our Mountains in this state are considered class 5 but some mountains do have class 5 routes.
Best Practices
Start early… like before dawn early if you can.
Camp overnight before your hike, close to the trailhead if you can.
Rule of thumb is to reach the summit before lunchtime to avoid afternoon storms that come quickly at this altitude.  You cannot outrun lightning.
Plan these hikes for late July through mid-October… although some routes are popular to ski in the late spring.
Pack lots of water, energy bars, a sandwich for the summit, protein helps.
Wear sunscreen and a hat.
Wear layers, good hiking boots that support your ankle.
In some cases you will need a helmet, crampons for your shoes and hiking poles.
Grays – North Slopes route
Pikes – East Slopes route (you can also drive up to the summit of this mountain)
Quandary – East Ridge Route
Bross – East Slopes route
Elbert – East or Northeast ridge routes
Handies – Southwest Slopes route
San Luis – Northeast and south ridge routes
The ones I have done
Mt. Quandary – Ten Mile Range, elevation 14,265, class 1… I did the East Ridge route… there are harder hikes on this mountain (up to class 3).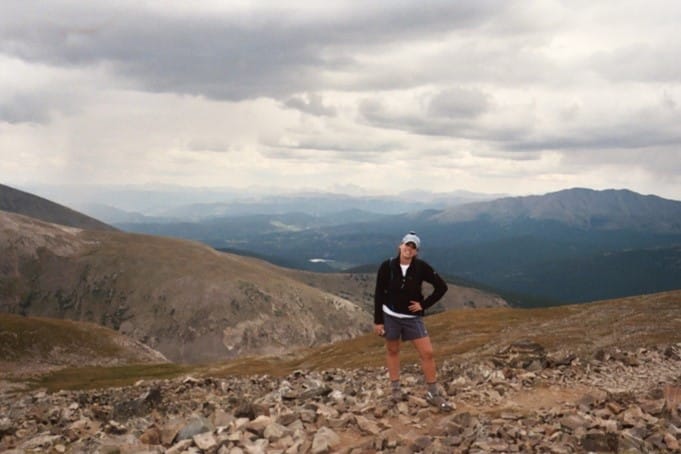 Mt. Massive – Sawatch Range, elevation 14,421, class 2… I did the southwest slopes route which is the shortest but steepest elevation gain. This 9-10 mile hike took us 8 or so hours.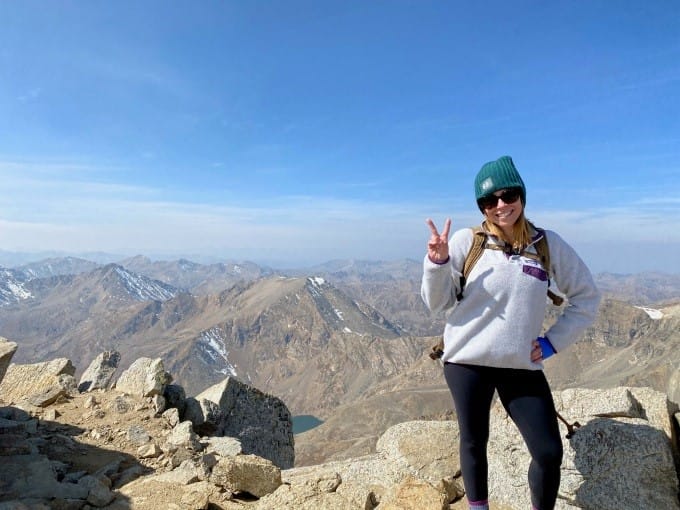 14ers near Denver
We have all heard of the Front Range and it's not just a random name but the real name of the mountains we see from Denver. There are 6 mountains within this range that rise above the coveted 14,000 feet and could easily be hiked during a day trip from the city — Grays, Torreys, Mt. Evans, Longs, Pikes, and Mt. Bierstadt. There are also quite a few in the Mosquito Range and the Sawatch Range that you could do in 1 day, and Mt Quandary is a part of the Ten Mile Range, which also includes the mountains that make up the Breckenridge Ski Resort.
Now go have an adventure!
Resources:
Book: Colorado Fourteeners From Hikes to Climbs – Gerry Roach