Colorado's own National Western Stock Show marks the beginning of a few different things, first and foremost a NEW YEAR! The show is held annually each January for 16 days. How on earth is it 2023 already? It also marks the beginning of the regular season rodeo circuit for many cowboys and cowgirls! The stock show is much more than a rodeo though, it is a premier tourism event for our city, including a world-class tradeshow, thrilling entertainment, one of the richest professional rodeos in the country, one of the country's largest horse shows, a livestock show and auction and more. Its goal is to strengthen American agriculture and showcase Western heritage. Whether you are new to Denver, here for a visit or attend this event annually, it is not to be missed and I am here to give you the "Scoop" on all things stock show. Yeehaw!
#theresnoplacelikestockshow
The National Western Stock Show's roots go deep. With Colorado's history rich in agriculture, farming and ranching, cowboys and cowgirls, this event pays homage to our past and present. It is a must on many people's annual to-do list. It has been delighting Denver residents since 1906! The National Western Stock Show brings in over $120 million each year to the City and County of Denver and the State of Colorado.
The Stock Show runs this Saturday, January 7th through Sunday, January 22nd this year for its 116th go round!
Did You Know?
The National Western Stock Show Association supports educational endeavors through local enrichment programs, youth education in agriculture, livestock, equestrian, farming and animal awareness fields while also offering scholarship opportunities to local youth.
The Pro Rodeo series at National Western is the start to the annual rodeo circuit.
Annual Denver event since 1906* (one year missed for COVID in 2021)!
One of the premier nationwide livestock, rodeo, horse and trade shows in the nation.
30 rodeos and 11 horse shows plus countless other exciting events!
Over 700,000 annual visitors.
15,000 head of livestock on grounds.
The event brings in over $120 million in revenue.
The livestock show is the equivalent of the Super Bowl in its industry.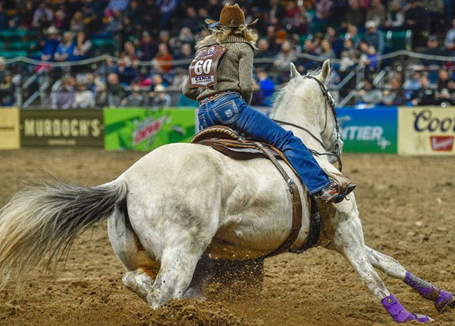 How to Enjoy the Stock Show
If you know me, then you know I love horses and I like to pretend I'm a cowgirl. Truth be told I'm no such thing. I grew up in New England and have always rode horses in the English discipline but I like to imagine someday I could be… until then the rodeo does it for me!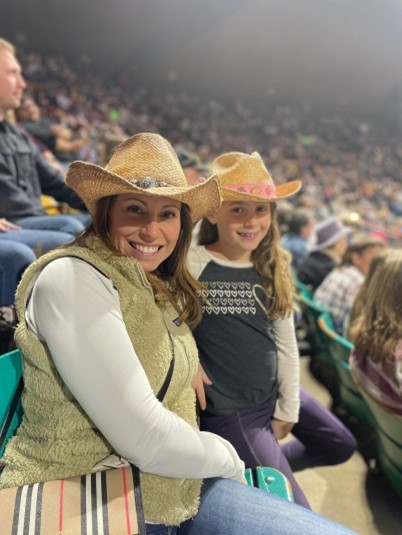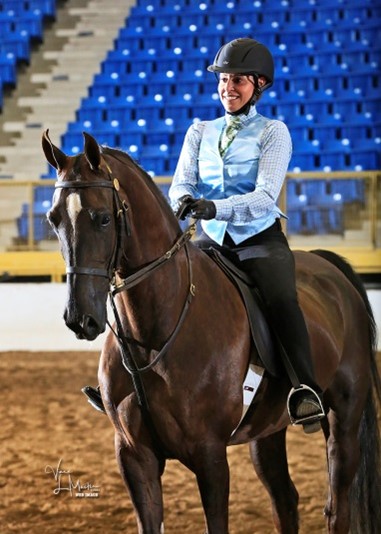 Each year we buy tickets to one of the 13 rodeos held during the stock show. A Rodeo is a 2.5 hour event that tests cowboys and cowgirls on ability, agility and coordination through various activities such as bull riding, bronc riding (both bareback and under saddle), steer wrestling, team roping, barrel racing and of course mutton bustin. It's a ton of fun! We also try to attend a few other ticketed events during the 16 day show. When you purchase a ticketed event ticket you automatically get grounds admission. So we come early and explore. It's fun to see all the cattle and the 4H kids fluffing up their cows for their competitions. You can see the impressive draft horses that pull the big hitches during the shows. The kids still enjoy the petting farm, animal displays and games scattered throughout and we enjoy shopping at the tradeshow! It has something for everyone in your family.
You can enjoy the grounds, the tradeshow, food vendors, shopping, petting farm, pony rides, some small carnival type rides, livestock shows, dog shows, some horseshow events, an animal nursery, art gallery and more with a general grounds admission ticket for $25 (adults) and kids 3-11 for $5.
What's included in the ground admission ticket – A LOT, click HERE to check it out.
Ticketed Events – these special events require a ticket to attend but include admission to the grounds)
Rodeos (Colorado v. The World Rodeo, Pro Rodeo, Invitational Ranch Rodeo, Mexican Rodeo, MLK Jr. African American Heritage Rodeo)
PBR Bull Riding
RAM Invitational Freestyle Reining – Horse event
Wild West Show
Grand Prix – Horse Jumping event
Monarch Casino Gambler's Choice – Horse Jumping event
Extreme Dog Shows
Evening of Dancing Horses
Draft Horse Show
Stockyards Beef Festival
Buy tickets HERE
What's all the Building About?
The National Western "Center" is a redesign of the whole National Western Events Campus. The project will double the grounds and is planned to be an educational and entertainment venue in the heart of Denver that celebrates Colorado Western Heritage and solves global issues through research and collaboration. The National Western Center partners are the City and County of Denver, Colorado State University, Western Stock Show Association, the Denver Museum of Nature and Science and History Colorado.
For more information on National Western Center, visit National Western Center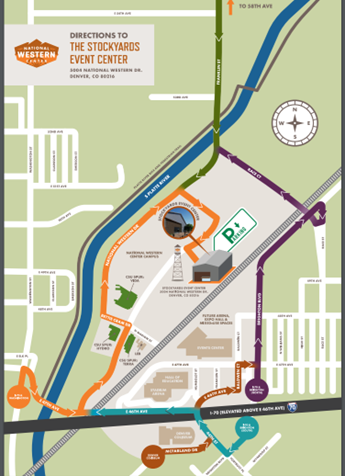 That's it, hope y'all enjoy!
If you attend be sure to tag us at #scooponstockshow2023