It's not Colorado without skiing, and October marks the start to ski season with storms producing natural snow at the higher altitudes and man-made snow operations underway. Arapahoe Basin, Loveland or Keystone historically open first each year and have a healthy competition with each other to vie for the bragging rights. Who will it be this year? Last year, Arapahoe Basin won the title opening on October 23rd.  
At this point if you haven't started thinking about your turns this winter you're behind the game! Let's get you the information you need to be sure you have your passes and some ideas of what is going on in our high country this winter.
PRO TIP: If you have young kids, rent their gear each year through the Epic Mountain Sports Junior Trade program. As they outgrow their gear you trade it in for a discount. They also include one free trade out mid-season if needed. I just visited yesterday and scored awesome new skis and boots for my kids this season. Book now if you haven't yet because it books a few weeks out.
ARE YOU EPIC OR AN IKON? Whether it's EPIC or IKON season pass rates increase on Wednesday 10/11 so be sure to get yours TODAY!
PRICES GO UP 10/11/23
The Epic pass costs skiers and riders $949 currently and offers pass holders access to Vail, Beaver Creek, Breckenridge, Keystone and Crested Butte in state plus Park City in Utah. Telluride is a 'partner' resort and the pass offers many other resorts out of state and the country. A one day ticket on average costs $182 (average of 5 CO Mountains) so 5 days of skiing pays off your pass!
PASS NOTES:
Kid's passes are $483 (Ages 5-12)
Epic Local (excludes peak dates)- $705
Epic 7-day – $107 to $625
Summit Value – Keystone unlimited plus Breck unlimited minus Holiday – $569 (adults)
Epic school kids pass – see below…
Some EPIC news for the season: My EPIC app launching October 2023! Been thinking of skiing the Swiss Alps, now is your chance with the addition of Andermatt-Sedrun-Disentis located in Switzerland! Telluride has extended its limited partnership with Epic! Keystone has added a new high speed 6 passenger chairlift accessing the Bergman Bowl which offers 16 new trails! Breckenridge has transformed the Peak 8 base area with a new high speed quad chair. In 2023, Vail upgraded its Sun Down lift to a high speed quad. Game Creek bowl replaced its 4 person lift with a 6 person high speed.

Click HERE for your pass!
Epic SchoolKids Program – The Epic SchoolKids Colorado Pack is a free program for children enrolled in Kindergarten through 5th Grade during the 2023/24 winter season. This program provides four free days of skiing and riding at each of the state's top-ranked resorts: Vail, Beaver Creek, Breckenridge, Keystone, and Crested Butte.
If you are new to the program you need to book an appointment by October 11th with your child (appointment may be after 10/11 but the system closes for booking on 10/11) in person to register. If you are a repeat guest you can start the renewal process by emailing epicschoolkids@vailresorts.com.
The Ikon Pass boasts 50+ destinations with unlimited access to 17 destinations! Plus, in Colorado you can enjoy unlimited access to Steamboat, Winter Park, Copper, and Eldora and up to 7 days at Arapahoe Basin and Aspen Resorts plus almost all the Utah resorts and other out of state resorts. The current cost is $1,259 and includes unlimited access to 17 destinations and limited access to 41 others.
PRICES GO UP 10/12/23
PASS NOTES:
Kids – $419 (ages 5-12)
IKON Base pass – 14 unlimited resorts (Winter Park, Eldora and Copper) $929 plus 5 days at 34 additional destinations (Child Base $349)
Discounts for nurses, military and college
Retail discounts at North Face and Smith
Adventure assurance – you can defer your pass to the following season if you don't use it.
First Tracks – once per month starting in January you can take advantage of early slope access at select resorts January to March.
15% off food, beverage and retail
25% off friends and family tickets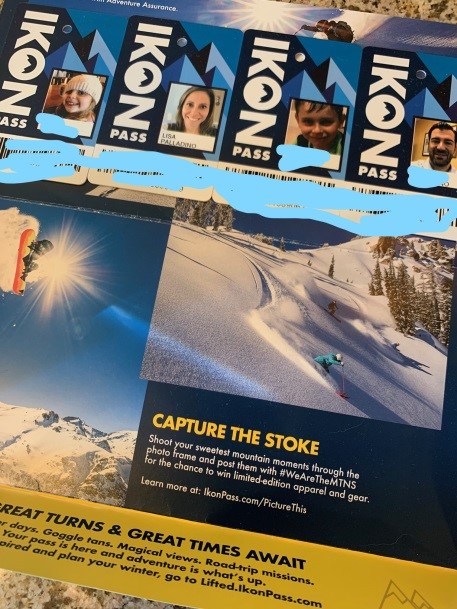 Click HERE to purchase. 
IKON updates: The Ikon pass is sticking with their convenient  'adventure assurance' program implemented the last few years which means should you choose not to use your IKON pass this season, you can elect for it to be transferred to next ski season by December 8th. You will also be offered a proportional credit back should any IKON pass destination be closed for any period of time due to COVID. This credit will be applied to the next year's ski pass.
NOTE: please check all destination websites prior to planning your ski trip to ensure you understand individual resorts protocols.
Ski Resort updates:
Colorado Ski Country USA is a trade organization which represents 21 of Colorado's 30 ski resorts and also offers passes and discounts! Take advantage of their CSCUSA kids Ski Passport or Gems Card.
Kids Ski Passport – for students 3rd grade to 6th grade – 20 ski areas, 4 days at each for 80 total days, cost $65 (not valid on Epic Resorts)
Gems Card – Discount lift ticket card at 11 participating resorts, 2 uses at each for only $48 with blackout dates. Discounts daily lift ticket rate to under $100 at participating resorts.
The (coveted) Gold Medallion – $4,500, Unlimited and completely transferable ski pass (not rider specific) to all participating 20 CSCUSA Colorado Resorts – limit 100 per year, must submit application. Ideal for businesses!
Opensnow.com is a great website to check the snow report for your favorite resort!
The Winter Park Express: The Winter Park Express ski train through Amtrak is running this season starting in January it will run Friday through Sundays until April.
Projected opening dates for the 2023 | 2024 season
Arapahoe Basin: TBD. It was and typically is the first to open each season, last year it opened on October 23rd.
Keystone: Should open mid-October. Last year opened on October 28th.
Winter Park: ASAP. Opened last year on Halloween!
Loveland Ski area: TBD. Opened last year on Nov 3rd
Breckenridge: November 10th
Copper Mountain: TBD, opened last year on November 14th
Eldora Mountain: November 17th
Purgatory Resort: November 18th
Beaver Creek Resort: November 22nd
Crested Butte Mountain Resort: November 22nd
Steamboat Resort: November 22nd
Aspen Mountain: November 23rd
Snowmass: November 23rd
Telluride Ski Resort: November 23rd
Silverton Mountain: November 25th
Powderhorn: TBD, last year opened on November 25th
Howelsen Hill: TBD, opened last year on November 26th
Monarch Mountain: TBD opened last year on December 1st.
Granby Ranch: December 8th
Sunlight: TBD. Opened last year on December 9th
Aspen Highlands: December 9th
Buttermilk Mountain: December 9th
Echo Mountain: TBD. Opened last year on December 15th
Hesperus Ski Area: TBD opened last year on December 17th.
Happy Skiing Everyone!