What gives you hope today? During this time I ask this of myself and my family. Hope and gratitude are what propel us through times that are strange, sometimes scary and difficult. Art has always been something that motivates me and brings me joy. Whether it's music, painting, creating something new or just straight up coloring.
One of our heros during this time has been Mr. E, otherwise known as Eddie Eggloff, the art teacher at Bill Roberts. Mr. E has been hosting an art workshop online every Monday – Friday at 9:00 am. It is free and open to anyone, even parents that want to draw along with their kiddos! He has guest readers, Mr. Bellis provides the warm up and exercise section and lots of smiling sleepy faces chatting. Yesterday, CPR (Colorado Public Radio) interviewed Mr. E. Check out his segment here at about the 23:03 mark. Mr. E's art class can be found on Facebook groups at Mr. E's Art Class.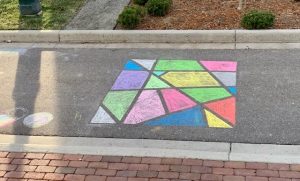 If you are looking for art near you while social distancing on your outdoor exercise walk or ride, I wrote a blog post a while back about public art spaces throughout Stapleton. The map is in the link above.
Or you can create your own art for others to see right outside your door by showcasing artwork in your windows and on your sidewalks. Check out the fun one my whole family completed on our Stapleton Scoop FB page.
Sometimes the helpers and leaders among us are doing something grand and heroic and other times it's just finding a way to make one person's day brighter. Being a leader can just mean remembering who you are and how you can help in your own individual way. Joe Phillips, our Focus Real Estate and Stapleton Scoop founder, summed things up in a post recently about leadership.  Perhaps my favorite part of Joe's post begins the title, "A Resource for Leaders, Psst, that's You."