You buy a house, move in, start dreaming of all the changes you want to make and then five years later… they still haven't happened. Sound familiar to you? That was our story. We bought our home in 2016 and we did a few things pretty quickly (changed out a few light fixtures, had some point tuck work done on the brick because that was fairly urgent, and a few other smaller projects). But then life got busy and money needed to be spent on more urgent, unexpected expenses, and suddenly five years had passed and we were in the midst of a pandemic. Which of course meant a lot more time at home, and a lot more time to mull over those changes that hadn't yet happened.
When we moved into our 1890 Victorian, there was so much we loved about it – it has high ceilings, and wood floors, and most of the original woodwork. And everything was very livable as is; the person we bought from had done a full renovation and most of his style choices were great. The kitchen however bugged me from the start. It had all the right components (gas stove top, double oven, granite counters, lots of cabinets) but the backsplash was a very modern black and silver glass tile and the cabinets were a cream color French country style and they really just clashed and looked a bit dated and didn't go well with the rest of the home.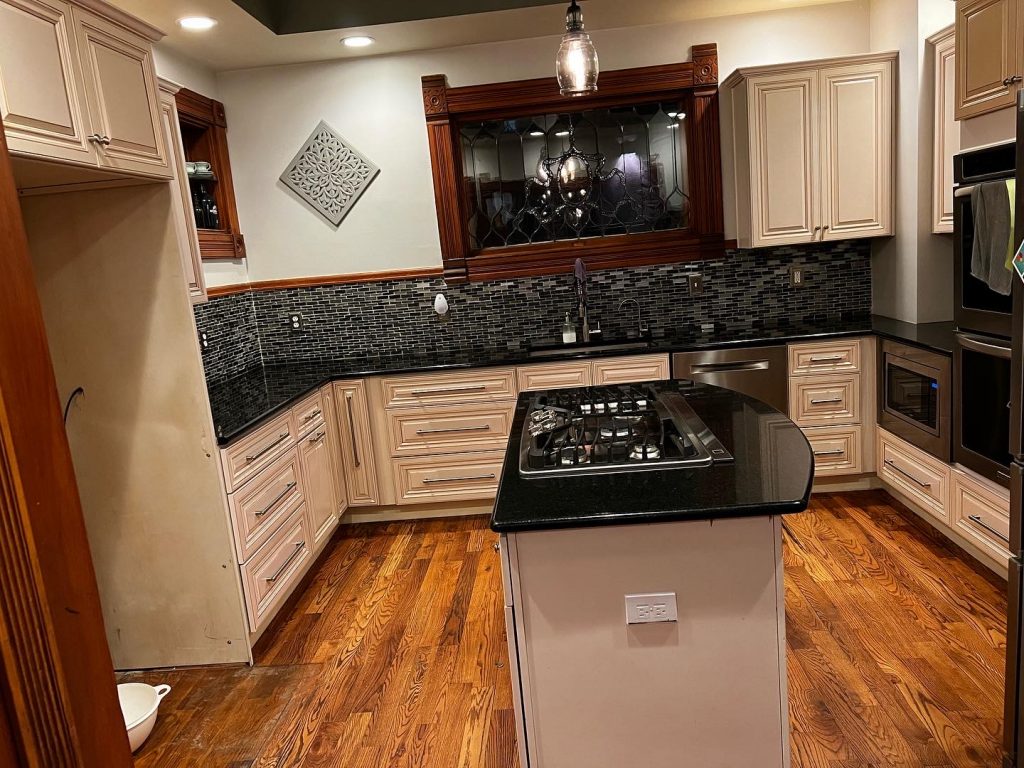 We did a full kitchen remodel in our old condo, so I am fully aware how expensive it can become when you start over from scratch. That was over ten years ago and a much smaller kitchen. So, I knew a full-on kitchen remodel was just not in our budget nor would it be a good return on investment decision for when we decide to sell down the road. But I still wanted something different than what we had. I wanted to love my kitchen.
It all started with tile…
Last year, I started exploring tile options online. I must have had 30 tile samples shipped to me. I finally found THE ONE at a The Tile Shop. It was a marble arabesque with greens and grays that looked beautiful with the color of our tray ceiling. But it was on backorder. I talked to one of the designers at one of our local The Tile Shop locations and sent him pictures. He agreed that this was the tile my kitchen needed. The note in the computer said the quarry was unstable and they had no idea when the tile might be made again. However, I didn't need that much. He talked me through how to measure and figured out he could have all the already existing pieces from the store locations across the country shipped to Denver and it would be enough. It took months and a lot of calling stores on his part, but tile hero he is and he made it happen. I ended up with 92 sheets of my dream tile. And then it just sat in my basement because I could not find anyone to even come give me a bid on installing it.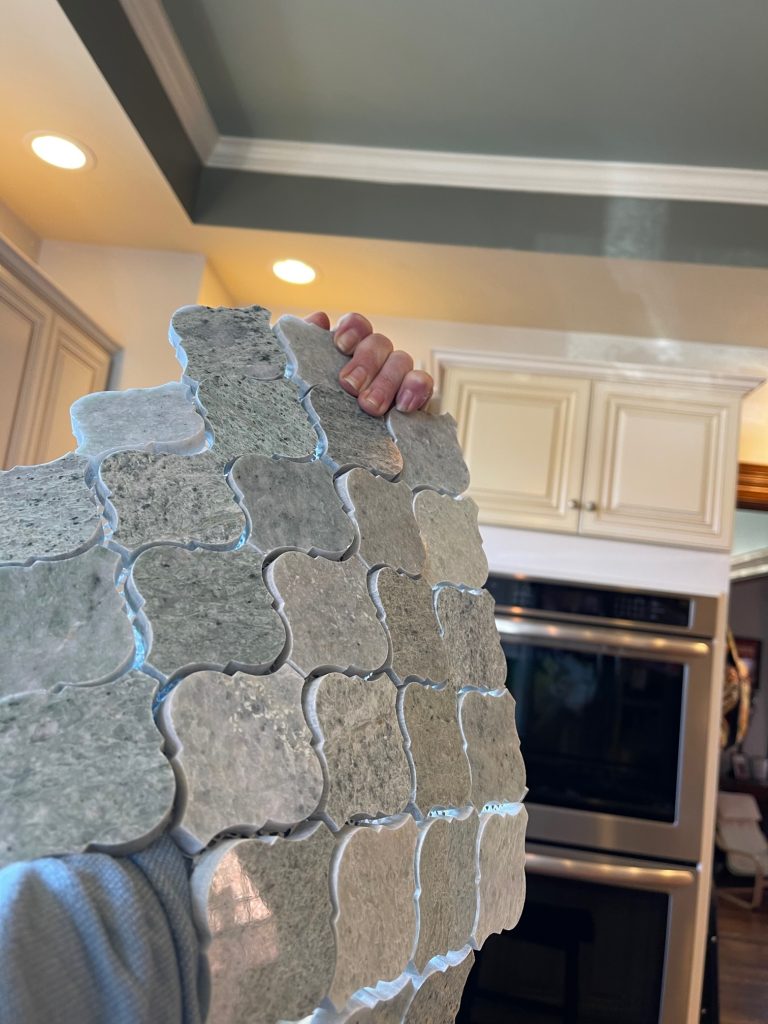 If you have done any home improvements since COVID hit (and chances are you have because so many of us have), then you know how over booked contractors and sub-contractors have been. My small tile job was just too small to make it worth it for anyone to even be interested.
While it was taking so long to find anyone to even talk to me about my project, I couldn't get this other floor tile I had seen at The Tile Shop out of my head. Our main floor powder room/mud room floor needed to be replaced because the existing tile and grout was all cracked. So, I went ahead and ordered that tile as well. For months I would often just go downstairs to the basement to admire all my tile.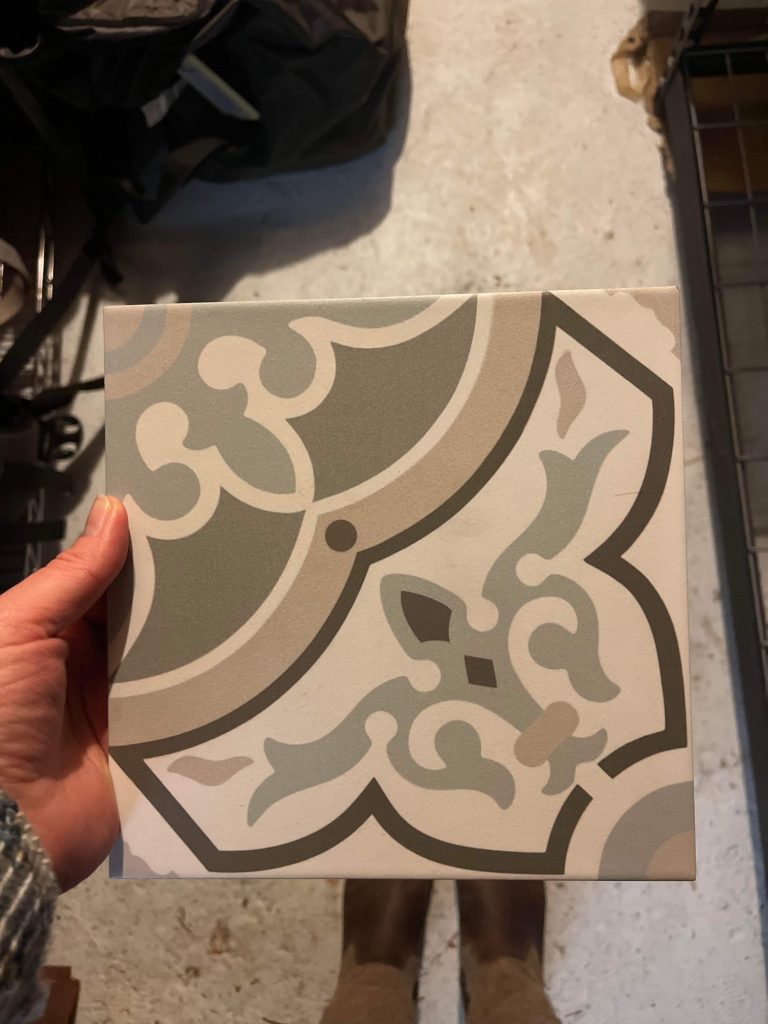 From tile to cabinets
Possibly because I am a Realtor or because I looked at so many tile websites or because I follow so many design pages or because "they are listening", I started getting ads for Kitchen Tune Ups Denver in my feed. Have you seen these? Their before and after photos look pretty amazing. I stalked their page for quite a while and I read their online reviews. I liked that while the company has a national presence, the franchises are locally owned. They offer a very specialized quick kitchen redo service – cabinet painting or changing out cabinet doors, changing out backsplash tile, and/or changing out counters. I finally messaged them one day and chatted with them a bit. They really couldn't do just the tile but if I wanted the cabinets painted also, they could send someone out to do a bid. I hemmed and I hawed for a few months. I called four tile guys with no call backs. One contractor said he could get me on his schedule for fall of 2022. I finally found a contractor to come out and talk about the project but then he never sent me a bid. I was feeling very defeated. I had talked myself into keeping the cream color French country cabinets because that was free and easy and they would probably look fine with the tile. But the more I mulled it over while waiting to find someone to do the job, the more I knew I really would be happier if the cabinets changed also. So in January when the Kitchen Tune Ups Denver add again popped up in my feed, I reached out to them once more. They could send the designer out within a week and might be able to get me on the work schedule as soon as February or March.
So, while I am sure their lovely designer would have been more than happy to help pick colors, I did me and went into a bit of a design tornado looking up all our house's paint colors and getting paint chips to consider. By the time she came out the next week, I had my colors picked: a light gray for the cabinets and a dark teal for the island. She said that even though it's not what they normally do, since he would already be here she could also have the tile guy do our bathroom floor. And the bid was at least a fifth of what I knew a minimum total remodel would cost. I paid the deposit and let her know I was super flexible on timing. She initially had us scheduled for painting around Valentine's Day and tile in early March.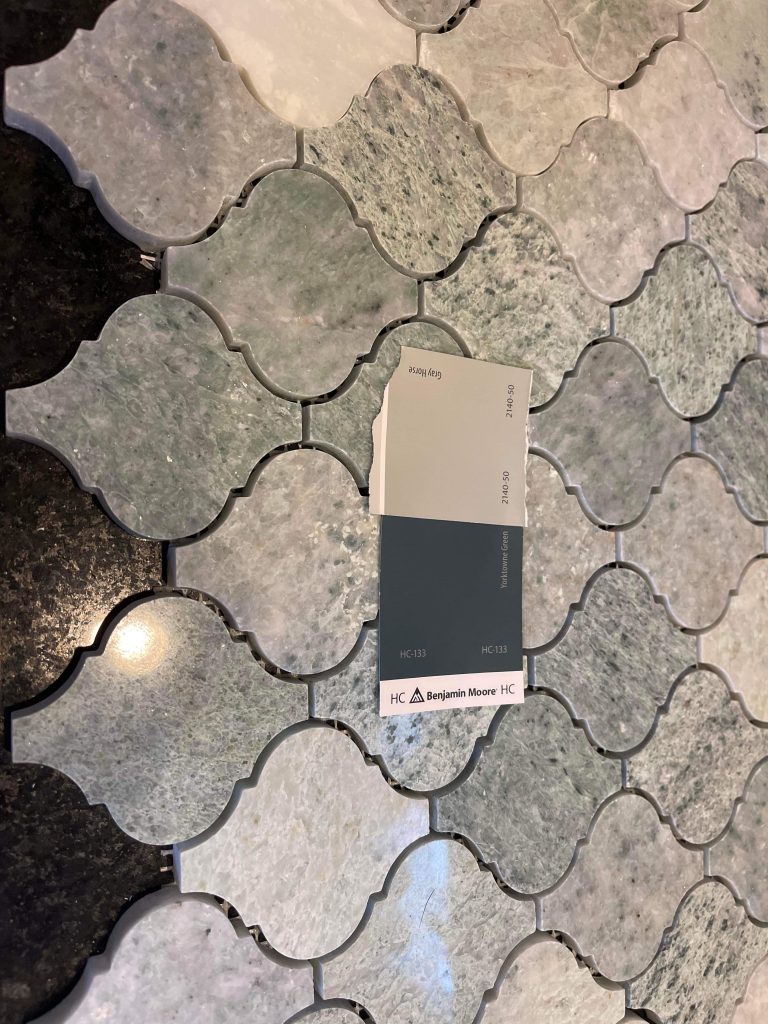 The timing and process
Well, turns out she was actually able to schedule the painters here a week before expected. The painting took about a week, but the big snow storm we had caused a bit of paint bubbling issues with all the extra moisture in the air. So, the next week a smaller team came out to do a few fixes and touch ups. (Any time you paint cabinets, you should expect some chipping – this is just what happens with painted cabinets. They do use a factory finish paint, but still they make sure you know there may be some chipping; they also make sure to leave you with touch up paint just in case.)
The paint was done, it looked amazing, even the black and silver backsplash looked less out of place and more livable (at least for a month while we waited for the tile). But luckily we didn't have to wait because again schedules changed and the designer called that same week the touch up paint happened to see if we could have the tile work start just two days later! I was so excited! When you work with this company, you do have to provide your own tile and your own grout. So, I had to run out and pick grout, which luckily the folks at The Tile Shop were able to assist with and had in stock.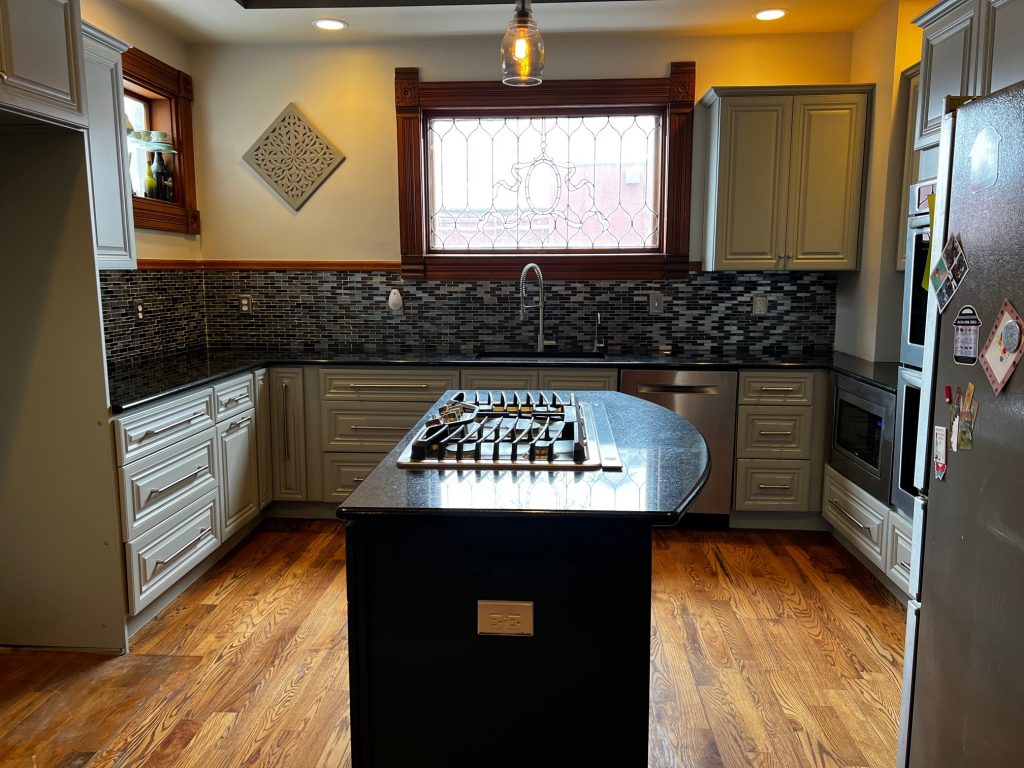 I really can't tell you how impressed I am with their awesome tile guy, Adam. He was so meticulous and paid such attention to detail. My 92 sheets of Biltmore arabesque tile had come in basically three different lot colors – a very light, a very medium, and a very dark. I did order extra in hopes of eventually having our fireplace tile changed to it also, so I wasn't too worried. I spent an afternoon sorting them into the three distinct shades, for which my husband made fun of me. But, Adam was glad I had; he really looked at the differences, talked through what would work best with the two different projects, laid out his ideas so I could see them in the kitchen, and really made sure I would be pleased with the end result. We decided to save the darkest third of the tile for the fireplace and use the light and mediums blended together in the kitchen. His attention, precision, and skill at matching up corners made my perfectionist heart sing.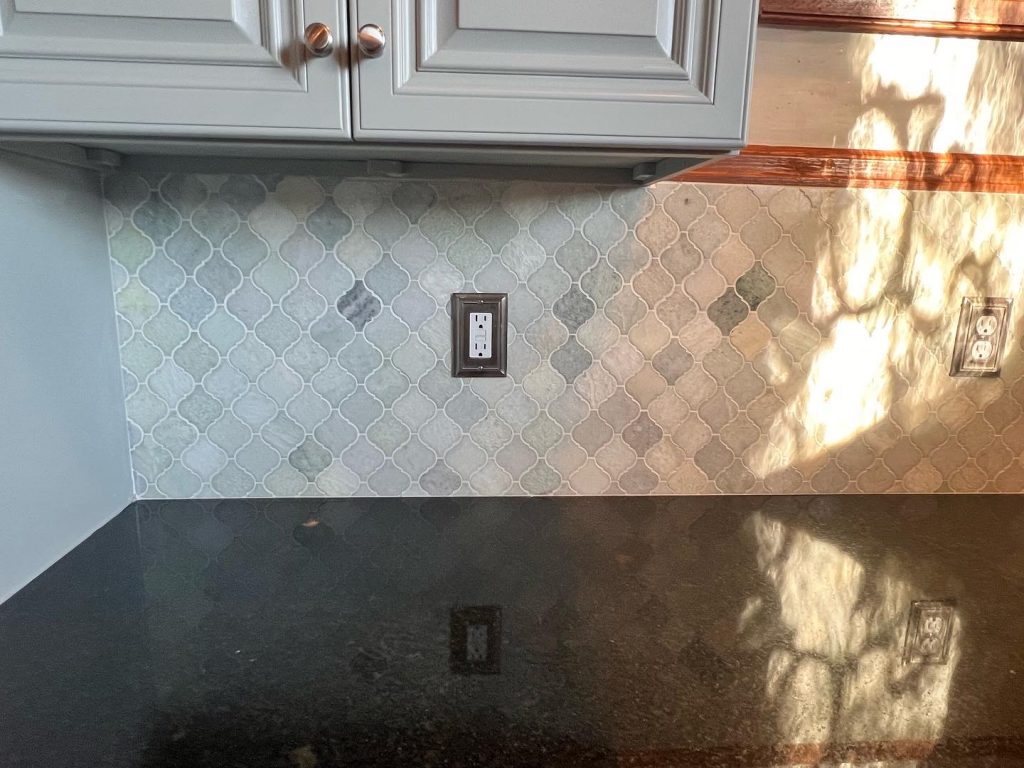 The whole process took about three weeks total for cabinets to be painted, touched up, and then the bathroom floor and kitchen backsplash tile work to happen. Had it not snowed and we not added the bathroom floor, it probably would have been 7-10 days at most. Our tile work also took longer than it likely would in a newer home as our old house of course had some fun challenges like three different floorings in various places and nothing done to level it all (which is why the tile that was there before was all cracked; don't worry, Adam did it properly making sure the sub floor is nice and level so our new beautiful tiles won't break).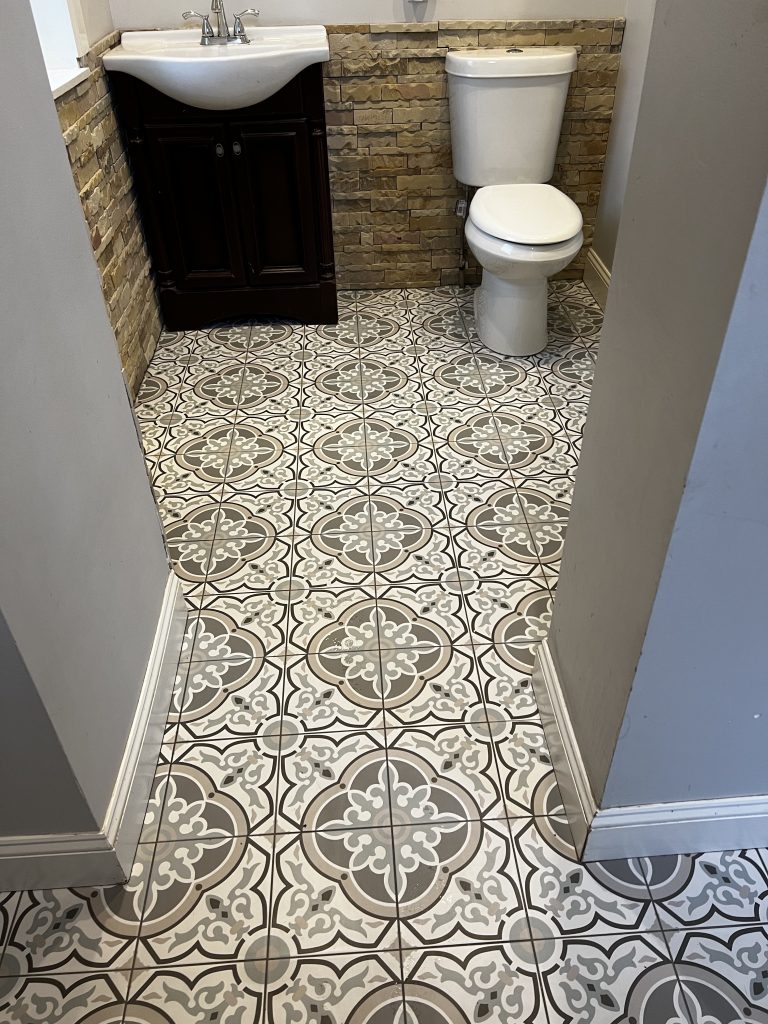 The whole process was made super easy by their designer, Courtney. She came to the house to talk through the project. Then she came to introduce the paint team and get them started. She checked in regularly, was always available for questions, and smoothly scheduled the paint touch ups, the tile work, and a plumber to reconnect the toilet and sink once the bathroom floor was complete. After the paint was done, she brought over some countertop samples as well, but she and I decided that the tile and paint really did look fabulous with the existing counters (in fact instead of trying to upsell me, she actually wouldn't even pull out the quartz samples because it all worked so well). Once the whole project was all done and I had a few days to load everything back into the kitchen and bathroom, she stopped by to see it, take some photos, make sure I was happy, and collect the final payment. (Courtney can be reached at (816) 783-3283. Tell her I sent you!)
Finishing with accessories
To fully complete the project, I bought some new stools for the counter off of Wayfair and a piece of artwork from Society6. I purged kitchen items that really don't ever get used and I was very thoughtful in how I reorganized all my kitchen tools as I put them away. I tried to make sure things we use regularly are easy to get to. I put dishes in a drawer so the kiddo can help with emptying the dishwasher, and I bought drawer dividers so that finding tools will be far more efficient. I bought a new spice rack that takes up a tiny bit of counter space instead of the whole big drawer they had been in before. I tried to go for form and function in hopes of making my kitchen both beautiful and easy to use.
The end result
I could not be more happy with how the project turned out. The fact they were able to get everything done so quickly, how professional everyone on their team was, and the reasonable price point made it all so worth doing. When we first bought the house, I felt like either the kitchen would be the kitchen forever or we would have to do a whole remodel. The difference something as simple as paint or a different tile can make is so much huger than we think it will be. There now seem to be a number of different companies – design helpers, DIY, paint ordering companies, and other quick remodel places – popping up in my feed. My advice if you are considering some small changes and don't want to do them on your own would be to read the company's reviews, look at as many options/samples as you can for tile and paint, work with their designer if you don't already have a vision, and then get bids and go for it! Want some change but don't have the budget, time, or desire for changes this big? Just changing out light fixtures, adding or changing drawer and cabinet pull hardware, or even getting new stools or some new artwork for your space can make it feel fresh and new. Whatever you do, make your space a place you love. Don't spend so much money you won't ever make it back when you sell, but do make your space enjoyable and somewhere you really want to spend time.