A few weeks back my family made the obligatory trek to Disneyland! Mind you we planned this trip in 2020 but alas… COVID! Jump forward to this summer and I can honestly say we had a blast! For us it really was the happiest place on earth!
Now, we enjoy all things Disney for sure but we are by no means a "Disney" family. In fact the only way I could convince my husband to come was by tacking on a Yankees baseball game against the Anaheim Angels, also a blast BTW. But we went and it was TRULY magical.
First the timing of this trip, as mentioned above we had to reschedule this trip after COVID derailed our magical plan. Our kids were 2 years older and I have to admit I was worried they wouldn't care about the Mickey and Minnie nostalgia I was looking forward too but I was pleasantly surprised by their enthusiasm. They still found so much joy in a hug from Minnie Mouse, trying to figure out which one was Chip and which was Dale (note: Chip has a black nose and Dales is red), grabbing a picture with Chewbacca and hunting for Mickey Mouse for 2 days. When we finally found Mickey as we were leaving the park on our last evening, my 10 year old son genuinely lit up and said Mom, it's Mickey, its Mickey!!! He was so happy!
We went hard on this trip, really hard. Sadly we forgot our watch charger and didn't track our steps (a HUGE bummer) but I would venture to guess we walked 10 miles and 50,000 steps each day. We went from 8am to 10pm each day with only a few food breaks. If we had done this trip 2 years ago our children would not have been able to walk that much but they did it at 8 and 10 and did not complain!
.
LODGING
When I booked our trip the first time we had booked a "good neighbor" hotel on the recommendation of a Central Park neighbor, a fantastic way to stay close to the park and get a more affordable rate (as opposed to Disney resort properties). All of these hotels are very close by and offer guests a shuttle (some free, some fee) to the park entrance. In the end though, when we re-booked our trip we ended up staying at the Disneyland Hotel and for my family it was the right choice! Since COVID restrictions have been lifted at Disney, they have brought back early entry for guests staying at the 3 Disney properties, well worth it IMO. Plus, even though the other hotels are close the 3 Disney hotels are basically at the gate, the locations are truly fantastic. As my husband said "hands down it was the way to go". The Disney properties are located within the Downtown Disney district for easy shopping, dining and park access. The parks are within walking distance of all 3 hotels and if your budget allows, The Grand Californian has its own private guest access to California Adventure!
The 3 Disneyland properties are The Grand Californian, The Disneyland Hotel and Paradise Pier Hotel in order of cost. We opted for Disneyland Hotel which was very cool and very Disney from the minute you get out of the car, they greet you and familiarize you with the resort, the parks and your handy Disneyland app (more on the app later). We did not have to wait in the long check in line as we had taken advantage of online check in ahead of time and simply received a text message telling us our room was ready about 1 hour after we arrived. This was great because we were able to grab a quick lunch at one of the many restaurants in Downtown Disney while the bell desk had our bags. Then we used our phone to access our room and our bags were waiting for us!
We spent the first afternoon enjoying the beautiful pool and tasty cocktails while the kids lapped the waterslides. We also spent time familiarizing ourselves with the lay of the land, park entrances and the app to plan our next day's adventure! We also took advantage of a character dinner at our hotel that night which was surprisingly good and the kids LOVED meeting many of the classic Disney characters!
DISNEY PROPERTIES:
TICKETING
As far as ticketing goes, you can easily purchase your park tickets online or through the app. If you book a Disney property it is easiest to add on the tickets when you book the hotel room but they are easy enough to add on after or separately if you stay off property. You need a ticket for each person and each day you plan to visit the parks. Park tickets sell out so plan ahead.
Disney gives you a "park hopper" option which is for accessing both parks on one day. The park hopper option starts at 1pm each day so you could start your day at one park and go to the other in the afternoon and back and forth after that point if you wanted. We opted out of this option because we felt like we wanted 1 full day in each park because it was our first time. On future trips we would utilize this add-on for sure.
They also have a "Genie+" ticket add-on which I would 100% recommend if your budget allows. Genie+ is basically the new "fast pass" now called Lightning Lane (LL) and offers you special ride access and free photos from any Disney photographer. This was SOO worth it; we almost never waited in a line for rides or food.
THE DISNEYLAND APP
You can download this app on your phone early in your trip planning. It gives you lots of information about the resort which helped me as I planned the trip. Then as your trip gets closer you can check into your hotel 2 days in advance if you booked a Disney property. You add a credit card to the app and you can use it to make purchases while at any Disney store, restaurant, park or property.  It also has a GPS location tracker with an interactive map, information on all rides, it gives you the ability to book food reservations, mobile food orders, check real time ride wait times, it is your hotel room key and if you purchased the extra Genie+ service it allows you to book your Lightning Lane rides. My husband and I enjoyed figuring out the best way to utilize the lightning lanes, it became a game of sorts to figure out the best plan of attack for the smartest day logistically based on location, wait times, which rides had lightning lane access, food locations, bathroom breaks and more.
The app was honestly amazing and Genie+ was a MUST! We checked it constantly to plan our next ride while in the line for the current ride. With the lightning lane, you could only book one at a time and once you had checked in to that ride you could then book the next one, typically within 20-30 minutes so you had time for the current ride and then you could make your way to the next one. It gave you a 1 hour window to check in to that ride at the given time slot. You could also only use 1 Lightning Lane per ride per day so if you wanted to ride a ride twice, you could not Lightning Lane it twice. You would have to actually wait in the line. This worked well for us with Indiana Jones because we did this ride at the beginning of the day when there was no line, then we came back later in the afternoon and the line was 90 minutes so we used our Lightning Lane and waited maybe 5 minutes. The lighting lane windows did get more spaced out later in the day so we would fill in the wait time until our next LL ride with other rides with short waits (It's A Small World had a 5 minute wait) or rides not offered on Lightning Lane. I think we probably saved 4 hours of waiting in lines using the Lightning Lane access through the Genie+ service, again well worth the extra cost!
DISNEYLAND
Our day spent at Disneyland was fantastic. From the churros to the fireworks we did ALL the things. We started our day in Adventureland going clockwise through the park. We easily jumped on Indiana Jones with no wait for our first ride. After that we utilized our Genie+ Lightning Lane options to help manage lines. We stopped for snacks along the way and were able to make a lunch reservation at River Belle Terrace restaurant to rest our feet. While the restaurants are exorbitantly expensive for what you get, sitting down and enjoying food and a cold drink was much needed. We happily 'ride hopped' all day and by 4pm or so we had ridden all our "'must-ride" rides. We were then able to double up on some rides that we did not use lightning lane access for earlier in the day and we enjoyed a few nostalgic rides with shorter wait times such as It's A Small World and Alice in Wonderland… which happened to be one of my daughter's favorite rides and surprisingly, it had some get up and go even for us grown-ups! Our absolute favorite ride at Disneyland was Star Wars: Rise of The Resistance. This ride literally had all ride elements, starting with a realistic hologram of Rey and BB8, you board a "prisoner transport" with lots of other people. Then you board your own 4 person vehicle that whips you all around a ship, space and more. It was fast, it had animatronics, Kylo Ren appearances, Stormtroopers, big drops, a 4D/IMAX sequence… it amazed us all! A MUST RIDE!
The park was busy right from the start but it became increasingly busier after 1pm as locals arrived and park hopper tickets kicked in. The kids started to melt down a bit by dinnertime but the food refreshed us and we then enjoyed the Fantasmic light show and fireworks display to end our day. Disney certainly knows how to entertain and overall, this park was worth it and we'd go again!
CALIFORNIA ADVENTURE
Our second park day was spent at California Adventure. This theme park seemed older right from the get go. California Adventure serves alcohol whereas Disneyland does not (except Oga's Cantina). The rides also seem to be geared towards older audiences, more thrills. This time, we started our day on the Incredicoaster which ended up being our favorite ride at the park. We then headed around the lake and ride hopped our way around. I will note that there are not as many rides that offer the Genie+ lightning lane so we had to wait in more lines this day than Disneyland. The kids didn't love that part but we brought them little goodies and fans to keep them busy and cool while waiting in lines up to 90 minutes. We were able to use lightning lane on some of the big rides but Radiator Springs racers was closed off and on all day and lightning lane was only offered for an extra charge so we opted to wait in the 90 minute line once the ride opened… it was worth it. You race another car around the western landscape in a "cars" car, it was very fun!
One thing to note, this park had a lot of 3D shooter rides, Spiderman Webslingers and Toy Story Midway Mania are basically the same ride. Toy Story was hands down a better, longer ride for the amount of time we waited. We were able to lightning lane the Guardians of the Galaxy ride and the normal queue was over 2 hours so the lightning lane was worth its weight in gold for this fun ride. You basically go up and down an elevator shaft (it's the old Tower of Terror ride) and help Rocket breakout his Guardian friends from a prison! This ride should not be missed.
Similar to our day at Disneyland, we ended by having a sit down dinner to rest and fuel up for a few last minute rides before the impressive World of Color light show that is put on within the lake. The kids loved it!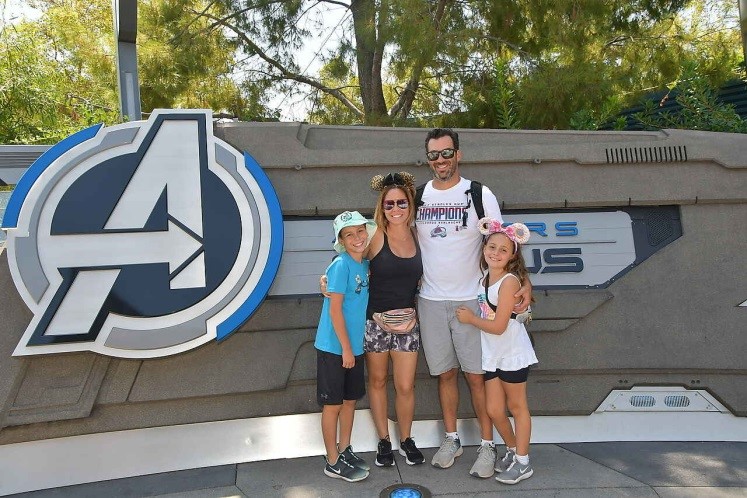 TAKEAWAYS
These are my top tips which worked well for my family!
Stay at a Disney property and utilize the early access.
Purchase Genie+ in addition to your ticket.
Make dinner reservations well in advance – right at the 60 day mark.
If your kids are 12 and younger book a character breakfast or dinner. This is the best way to meet characters. They are hard to meet in the parks and often have a queue to get a picture.
Go early to avoid local crowds and park hoppers after 1pm.
Make sure you bring an extra phone charger/battery pack – you use your phone all day and it will die.
Try to eat at a restaurant that gives you a preferred seating voucher to Fantasmic (DL night show) and World of Color (CA night show).
Add in a buffer day between park days. We did not do this because our trip timing wouldn't allow for it but I wish we had a day to rest our feet and enjoy the pool between park days.
Disneyland has a huge firework display each night at 9:30pm.
Spiderman Webslingers was NOT worth the 90 minute wait IMO. Do Toy Story Midway Mania (same ride but better) instead if you have to choose between the two.
Fly into John Wayne Airport, not LAX.
You don't need a rental car unless going off property – Ubers/taxis are very easy to get.
RIDES NOT TO MISS (DL=Disneyland, CA=California Adventure)
Star Wars: Rise of the Resistance – DL, our favorite ride across the board. It was AHHHHMAZING!!!!
Incredicoaster – CA, rode it twice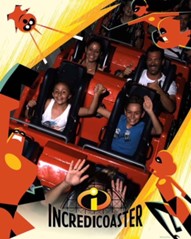 Indiana Jones – DL, rode it twice
Space Mountain – DL, this will make you dizzy but so fun!
Splash Mountain – DL, you will get wet
Big Thunder Mountain – DL
Pirates of the Caribbean – DL, classic ride… rode it twice
Soarin – CA, we had no idea about this ride and it was a pleasant surprise… really cool IMAX ride
Guardians of the Galaxy – CA
Radiator Springs Racers – CA, we waited over an hour but it was worth it.
Fantasmic – DL, night show at 9pm or 10:30pm
World of Color – CA, night show 9:30pm
There you go, all things Disneyland. This was a family trip for the books. I do believe my kids will remember this trip fondly when they are grown. At 8 and 10, they were the perfect ages. They were tall enough to ride ALL the rides, they were able to walk ALL day long with us and they are old enough to remember the trip – a big WIN! I think the magic ages for Disney are probably 6-12 but Disney is enjoyed at ANY age. I loved it and I hope you do too!